From our friends at University of San Diego:
Cecil Taylor, one of the most original pianists in the history of free jazz, is a renowned jazz pianist and poet. The winner of the 2013 Kyoto Prize in Arts and Philosophy, Taylor will perform Wednesday March 19th at USD in a very rare public performance. Taylor developed an innovative improvisation departing from conventional idioms through distinctive musical constructions and percussive renditions, thereby opening new possibilities in jazz. His unsurpassed virtuosity and commanding blend of music and poetry influenced a broad range of musical genres. Hear about Mr. Taylor's journey from being a young classical jazz musician to becoming one of the world's foremost free jazz pianists.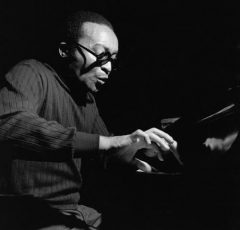 Performance Details:
Wednesday, March 19th
Shiley Theatre, Camino Hall
10:30am-noon
Free Admission
Limited Seating, reservations required.
Visit www.kyotoprizeusa.com, click on Event Registration
For more information call Kristie Figone, Office of the Vice President, University Relations at 619.260.4222.