FOR IMMEDIATE RELEASE:
For the past ten years, T3 Triple Threat Youth Mentors has provided performing arts education programs to help kids and teens gain new skills in the arts and in life, as well as connect to positive role models. Using professional teachers and experienced performers who graciously volunteer their time, T3 is able to provide a variety of free and pay-as-you-can voice, acting, dance and fitness classes as well as academic support and mentoring programs. Our 501(c)(3) non-profit organization seeks to offer every child an equal opportunity to a quality education through the arts. T3 also provides adult classes to help sustain its youth programs.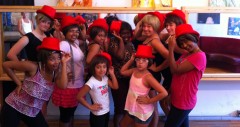 About the Director/ Founder:
Singer, dancer and actor Morie Williams formed T3 Triple Threat Youth Mentors to provide casual enthusiast and aspiring professionals an equal opportunity to connect with professionals in his industry. Williams, a featured entertainer with Barry Manilow's Stiletto Entertainment Production Company, was able to mobilize a network of his peers at a time when performing arts education at the public schools was being cut severely. For example, the San Diego Unified School District is cutting or eliminating teachers and resources from its music, visual and performing arts programs. Williams recognized that many talented youth would have nowhere to turn because their families cannot afford to pay for private music lessons or performing arts classes.
About the Company:
Williams and his team have addressed this gap by providing performing arts classes, workshops, student showcase performances and mentoring support. Since founding, T3 has provided these services to 200 San Diego youth! All of T3's classes are provided at no cost, though donations are accepted to sustain the program. This winter and spring, we are providing 50 youth with opportunities that will define their formative years through a series of arts after school activities, consisting of academic tutoring and performing arts education. In a conservatory setting students gain extensive training in dance, acting and voice, while having access to academic support. Our program culminates in a Broadway styled musical. Whether you're 6 or 106, all are welcome!
The program will be ongoing March 3, 2014 through June 7, 2014 and be held at 2323 Broadway, Suite 105, San Diego, CA 92102. In June, T3 will continue with its summer day camp intensive program. To sign up to teach or take class, find out how you can help or make a donation, please visit our website at www.t3triplethreat.com.