Buffy St. Marie Retires from the Road
The announcement came a few weeks ago with little fanfare or comment from the mostly-out-of-touch 21st century music industry. Indigenous Canadian singer-songwriter, artist, and activist, Buffy St. Marie has retired from live performance. In her public statement she pointed to recent physical limitations for her choice:
I have made the difficult decision to pull out of all scheduled performances in the foreseeable future. Arthritic hands and a recent shoulder injury have made it no longer possible to perform to my standards. Sincere regrets to all my fans and family, my band, and the support teams that make it all possible.
It is a call for rest, long overdue for one of North America's most active and creative musical artists.
At 82, the prolific singer-songwriter has penned classic songs that include well-covered hits like "Universal Soldier" (Donovan) "Co'dine" (Janis Joplin), and the Elvis Presley/Neil Diamond hit, "Until It's Time for You to Go." But her most familiar to many of the Baby-Boom Generation is the Oscar-winning theme song from the classic film, Officer and a Gentleman, "Up Where We Belong," as recorded by Joe Cocker & Jennifer Warnes.
However Buffy St. Marie has consistently released a collection of innovative solo albums throughout her career, dating back to 1964. These albums best represent her musical growth and transformations and transitions from folk to rock to a unique genre of her own creation, a sound unique to her worldview and life experience.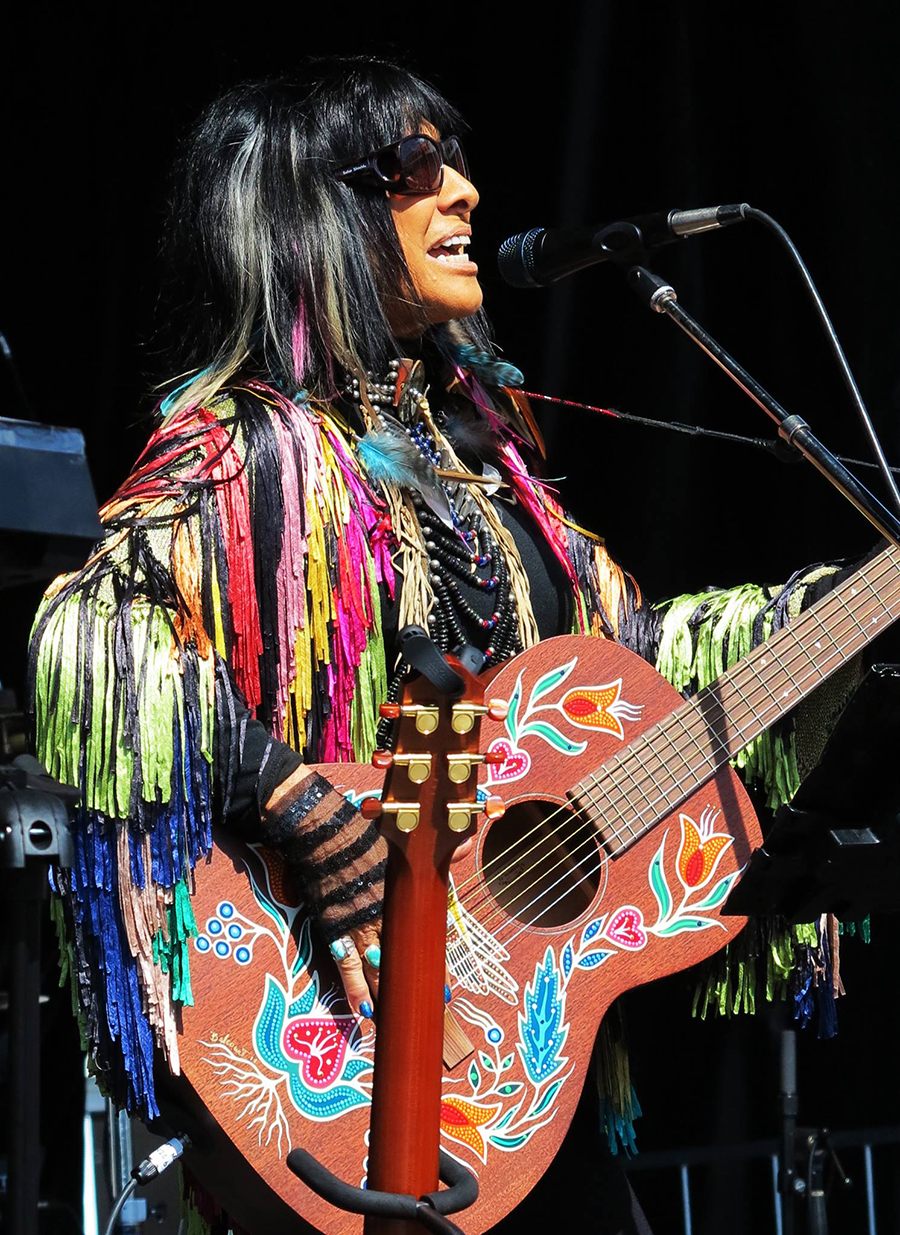 In her retirement from the live performance, she joined a group of folk-based artists from the pivotal era of the 1960s including Arlo Guthrie, Tom Paxton, and Joan Baez. She has suggested slowing down in recent public appearances, but the announcement gives us one more reminder of the sundowning of one of the artists whose impact began in the 1960s, the most influential decades of the last century. However, she is still close to the earth in her paradise country home in Hawaii where she can continue to live her authentic life, which includes her family and a recording studio. She will carry on.
A brief survey of St. Marie's multiple decade career reveals a rich, soulful musical path that has been chock full of innovations, surprises, twists, turns, and always great music of songs and stories. She was born to a Cree family in Saskatchewan, Canada as part of the First Nation.
During her infancy—through a government sanctioned program—she was adopted into a white family in Massachusetts. Her adopted mother was self-identified as part of the Mi'kmaq tribe of the Canadian-based First Nation. But in 1964, at the dawn of her musical career, she returned to the Cree nation in Canada to be adopted by the Piapot family.
I have seen a lot of the world and if you keep yourself
open to the experiences, the songs arrive.
—Buffy Sainte Marie
From this period forward, her mission and calling were to restore ties to the roots of her life by standing as a symbol of the truth of her cultural roots as an indigenous person. This has shaped her career and her choices even as she has often been overlooked by a counterculture who prides itself on justice and equality. A good illustration of this is the impression left with many in her audience when she appeared in 1969's Woodstock Festival. In fact, she was not even invited to appear.
Ironically, it was American television that gave a voice to her calling with the 1968 episode of the western series, The Virginian, "The Heritage." Her special guest appearance as a Shoshone girl who was sent east to be educated at a white university echoed her life experience. The script was tailored for her and was among the first on American television to acknowledge this experience from indigenous American perspective. The casting, by her request, included all indigenous cast members in the Shoshone roles.
During the Viet Nam era, her song that has come to symbolize the atrocities of government-sponsored war, "Universal Soldier" was a hit by singer-songwriter, Donovan. In 1964, following a battle with Codeine addiction, her song, "Co'dine" was recorded by Janis Joplin and Quicksilver Messenger Service. And in in 1983, she received a Golden Globe and the Academy Award for Best Song for writing "Up Where We Belong," with her future husband, Jack Nietzsche and Will Jennings. She was the first North American Indigenous person to win the famous mainstream award. She also penned a classic love, "Until It's Time for You to Go," in 1964, which was a hit for Neil Diamond and Elvis Presley in 1970 and 1972 respectively.
But it is her body of recorded work that deserves to be rediscovered. After spending the early '60s touring coffee houses and folk festivals, she was signed to Vanguard Records and released her first album in 1964, It's My Way. It included "Cripple Creek," "Co'dine," "Now That the Buffalo's Gone," and "Universal Soldier." AllMusic critic, William Ruhlman recently said of the debut album, "This is one of the most scathing topical folk albums ever made. Even decades later, the album's power is moving and disturbing."
The albums that followed include rock, jazz, blues, and gospel strains, making Buffy St. Marie another 1960s legend who has pioneered roots-fusion music often called "Americana" music today. Albums like 1967s Fire and Fleet and Candlelight finds her songwriting growing even as she champions upcoming singer-songwriter friend, Joni Mitchell her "The Circle Game" and "Song for a Seagull."
After a 16-month period of studio silence, St.Marie, with the help of modern technology, released 1992's Coincidence and Likely Stories. Basic tracks were recorded via her computer at her home in Hawaii and then transferred to England for embellishment, completion, and mastering. The result is an accessible collection of songs that challenge and entertain. And her Edith Piaf-inspired vocal quality is strong and effectively eases into the pop-friendly sonic layers. "Fallen Angels" and "The Big Ones Get Away" find her edgy, sassy, and in a form that is timeless and youthful. "Bury My Heart at Wounded Knee" brings the protest song to a rap-inspired incendiary portrait of the changing times.
In the decades that have followed, St Marie's albums have been edgy, hard-rocking, and often passionate, urgent affairs. While she has always written truth and honesty in song without a trace of fear, her recent albums have grown with her spirit and a newfound boldness and courage. She leads the tribe of indigenous artists with original and innovation. In recent years her songstress roar has an irresistible bite to it. Albums like 2008's Running for the Drum, 2015's Power in the Blood, and 2017's Medicine Songs offer an artist in peak form, resurrected and bound for musical and cultural renewal. She is far beyond the theme of redemption. In fact, these three albums portray an artist as a historical prophet, offering her audience the path to redemption through music, dance, and prayer war cries.
She continues her creativity in recent years with books for children of all backgrounds and cultures. They are stories illustrated with care that give shows the art and stories from the perspective of the indigenous experience. Since 1996, she has helped educate children and adults with curriculum in geography, history, social studies, music, and science through her Cradleboard Teach Project. The Nihewan Foundation Initiative/the Creative Native Project is a program she initiated, which gives Indigenous youth the opportunity to develop their artistic talents and begin careers.
The remarkable story of Buffy St. Marie is a living testament to the endurance and the triumph of the human spirit over adversity through peaceful creativity.