Jim Call's Wide and Wonderful World of Music Curates All the Music Recorded in the Whole World…And More
One of the truly bizarre things about San Diego is that amazing people can live and work here for years, known and respected to a knowledgeable few, yet separated from legions of people whose lives and passions might be stimulated if only they knew what their neighbor was up to and where to find their brilliance.
This bizarreness concerning local culture fairly fits James Call, a Renaissance man whose musical interests seems to have no end and who for years has made it his business to expand that knowledge and expound on it to whomever may listen. One currently finds James Call's Wide and Wonderful World of Music ("All the music recorded in the whole world!") on KNSJ, an all-too-low-powered local station at 89.1 FM on the dial ("KNSJ Descanso, serving San Diego and the Imperial Valley") that's best found and experienced online.
Every Tuesday night at 8pm, Call's labor of love expounds on little-known, sometimes idiosyncratic musical genres—such as a two-part show featuring women rockers(in response to unfortunate statements made by Jann Wenner of Rolling Stone) to exotica, lounge, bachelor pad, space age, Dadaist music, and most everything else imaginable. His labor of love is one that has been part of Call's life for nearly six years.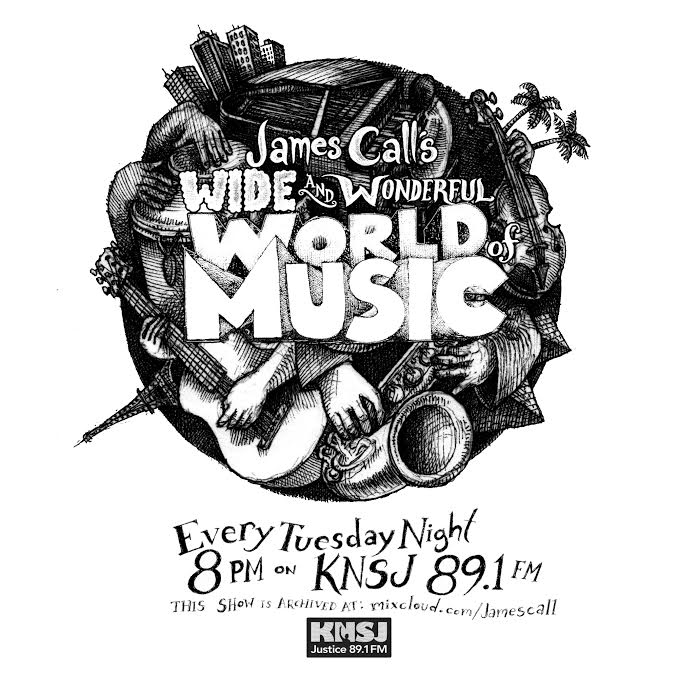 Call has reinvented himself several times over. Beginning in the early '80s, in company with former KGB FM talent Paul Sansone, the pair entered a short stint at 91X, where Call's extensive collection of records helped shift that station's programming, from album-oriented rock to rock—and much of everything else. As Call tells it, on the day the station was to change its format, near the end of "Stairway to Heaven," Sansone scratched the record through and substituted "Everybody Wants to Rule the World." Even then, San Diego radio was hardly subtle. Sansone eventually managed the Penetrators, wherein Call played many clubs through the decade, including Klub Kult, successor to Club ID, both of which carried a wild scene through their years of operation. The Penetrators became something of a legend before morphing into the Beat Farmers—likewise legendary—and then the Snugglebunnies in the late '80 s. Through all this time, Call worked as a mobile DJ and as the DJ at Pure Platinum, a local strip club, which was then raking in the coin and tourists in San Diego. He sharpened his craft and added much to his collection while experimenting with music forms on his own.
At the beginning of punk music's rise, Call was experimenting with a kind of musical Dada form all his own that left atonality far, far behind. Playing a piano with his fists, he worked on a kind of music sans rationality—a completely intuitive, visceral manipulation of the instrument that blended emotion and raw energy with discord. Others called that "Metal Machine" music and developed a commercial genre with it; they came later. After that, Call found Brian Eno's ambient sounds. Lou Reed produced one of the most potent records Call ever heard, leaving a profound impression.
In 1992, Chris Howland created a music magazine called SIN, and approached Call to write about music for the new rag. Call hadn't written much before but was intrigued and lent his efforts to the fledging publication with the proviso that he write as he pleased about what interested him. What interested him at the time was exotica and Les Baxter. Some recall James Call's stuff as the most readable stuff in the magazine and the genre got traction among a growing crowd in San Diego, especially among the growing cafe culture here. The on-the-job training at SIN perhaps moved exotica's needle, or at least SIN's; the magazine eventually split into two others: HYPNO and AXCESS, which lasted a few years before swan-songing into oblivion. ReSearch publications and AMOK, two other heavier hitters in music publication then, did much to push exotica for the rest of the decade.
After the SIN split, Call found himself compelled to write and looked for a suitable direction to turn his growing talent. History beckoned, particularly the history of the founding fathers of the United States, about whom Call considered writing a history of their sex lives. Research into them proved compelling and turned Call into a well-versed and thoroughly read student of both the founders and the times they lived in—and, by association, the US and the evolvement of the Constitution and early years of the republic. The interest in the sexual escapades of Hamilton and Jefferson, Franklin, and the rest soon gave way to a deeper interest and respect for those men and what they accomplished.
When the DJ work at Pure Platinum ended, Call took the opportunity to go to San Diego City College and immerse himself in studying history. He took most every class they offered, sharpened his writing skill, and eventually became editor of the City Times newspaper. Awards for excellence in news production followed, one of which was an interview with Justin Brooks, founder of the XONR8 Innocence Project that works to free the wrongfully convicted from prison. Call eventually got into radio production at the student station at City in 2015, and that led to a show very much like the one he now hosts at KNSJ.
Though limited by power and license constraints, the tiny station was enough to help gain a steady following for Call's show—until Covid put an end to such work at City College. KSDS/88.3 Jazz FM went to pre-recorded programming for the duration of the pandemic, and the student-run station stopped cold. But, in 2018, Call approached KNSJ, and the music continued there.
Call is thankful for KNSJ. The station is an odd duck in the US radio world and certainly the biggest odd duck on the plain vanilla pantheon of deadly boredom at AKA San Diego radio. Low powered, with a tower marooned in far-away Descanso, it struggles to gain listenership via the airwaves, but its online presence is constant, which offered Call an opportunity to re-create his show and doing as he pleases, albeit without compensation. Non-profit radio can't engage in trade, and what they cannot pay is made up for some with the opportunity to try the new, (very) different, and experimental. It also provides listeners with no end of engaging radio. This means Call gets to bear the costs of doing his own show, but this doesn't faze him. KNSJ's call letters include "social justice" and define the core values of the station and its operators; the causes of social justice align completely with Call's own outlook and, as he is quick to point out, with that of many of the founding fathers of the United States.
Listening to Jim Call's Wide and Wonderful World of Music might introduce one to perhaps L.A. psychedelic music from 1964 to 1966; collections of songs with "rain" in the title; Vincente Hernandez, a Ranchero singer from the 1930s onward; Detroit music metal from the mid-'60s, a very short lived and distinct thing from MoTown, and most everything else Call can combine into two hours of time. Call's efforts, along with those of KNSJ, are bold and noble efforts to push the envelope of culture and sophistication forward here. Well worth a listen.