BOOK REVIEW: Townes Van Zandt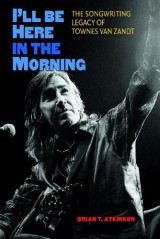 I'll Be Here In the Morning: The Songwriting Legacy of Townes Van Zandt
By Brian T. Atkinson
The gifted — but enigmatic and self-destructive — singer/songwriter Townes Van Zandt died at age 52 on New Year's Day in 1997, 44 years to the day after a similarly tormented soul, Hank Williams, also drank himself to death. Van Zandt's musical legacy — which has been chronicled in biographies, tribute albums, and even documentary films — is well known. Among folk/country songwriters of his era, only Guy Clark has earned comparable critical esteem. Billy Joe Shaver calls Van Zandt "the best songwriter that ever lived." Bob Dylan reportedly said that "Pancho and Lefty" is the "best song ever written." Despite a cult-like fan base, commercial success and critical recognition largely eluded Van Zandt during his lifetime. His artistic reputation is mainly posthumous.
Brian Atkinson's book, published by Texas A&M Press and sponsored by Texas State University's Center for Texas Music History, is neither a biography nor a scholarly analysis of Van Zandt's songs. Rather, it is a collection of anecdotes by numerous contemporaries (some illustrious, others not so much), supplemented by impressions of an ersatz assortment of younger songwriters who were influenced by his work. (The title is drawn from one of Van Zandt's best known songs.) The sources — seemingly drawn at random from the author's Rolodex — are unevenly selected. Few worked closely with Van Zandt; some (such as Kris Kristofferson) seem to have been chosen more for their celebrity status rather than first-hand experience. Some of the younger songwriters were infants when Van Zandt passed and/or have a tenuous connection to Van Zandt's body of work. For instance, Terri Hendrix admits that "At the time of his death I was unaware of him." Moreover, the interviews are reproduced verbatim, or close to it, and in many cases produce an unpolished and unfocused narrative. Rodney Crowell's contribution stands out as both well-informed and articulate.
Like a blazing comet, Van Zandt did most of his best work before he was 30. His creative heyday was the period 1968-1973. (His 1977 release Live at the Old Quarter, recorded in 1973, is generally considered to be his finest album.) After that, as Ray Wylie Hubbard reports, "he was drunk a lot." Still, his songs are timeless and many have become classics. "For the Sake of the Song," "Marie," "Tecumseh Valley," "If I Needed You," "No Place To Fall," "Waitin' Around To Die," "Flyin' Shoes," and "To Live Is to Fly" are just some of the Van Zandt compositions that have been covered extensively by other artists.
Readers wondering how the brilliant scion of a wealthy and influential Fort Worth oil family dropped out of college and became an itinerant (sometimes homeless) musician with the soul of a poet will not find the answer here. That book remains to be written. However, die-hard fans of Van Zandt may be amused by some of the anecdotes.