BOBO CZARNOWSKI: Thank You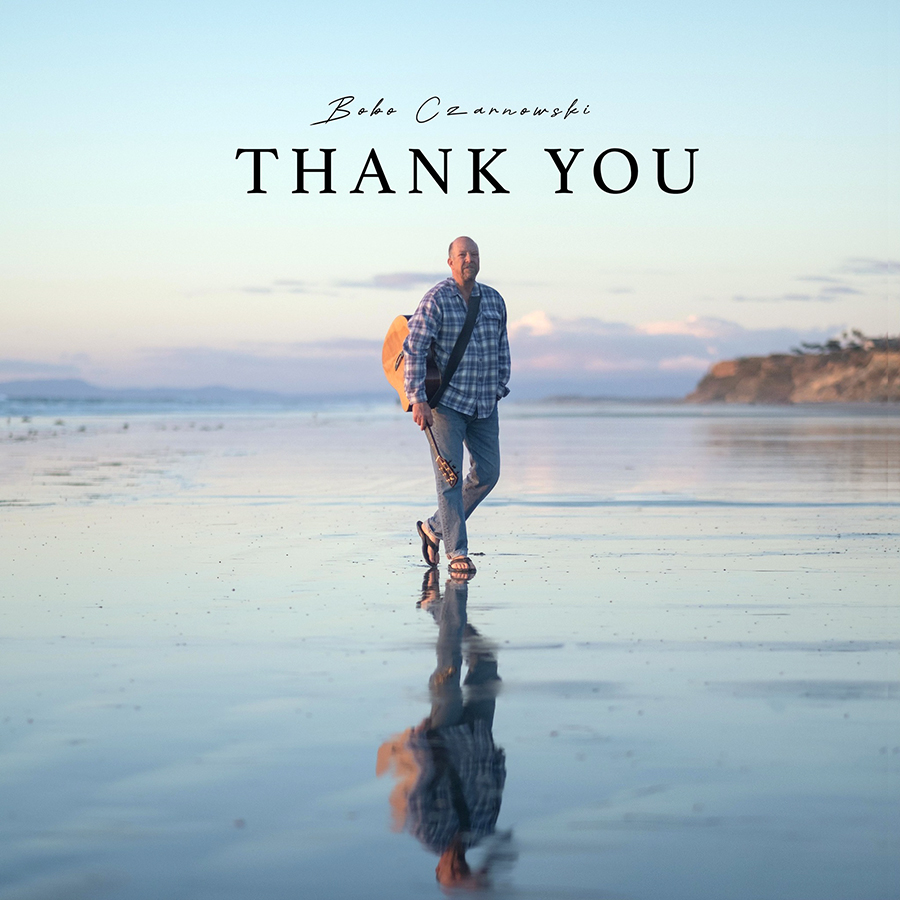 Nominated Best Folk or Acoustic Album at this year's San Diego Music Awards, Thank You is ten songs in just over 36 minutes, nine of which Czarnowski penned alone or with others. The short instrumental, "Thanksgiving Eve," was written by Bob Franke and arranged by Czarnowski. The album was recorded and mixed at Ohm Grown Studios and Satellite, produced by Jeff Berkley and mastered by Robbie Robinson. The overall sound is beautiful and the mix is perfect, fresh, and crystal clear. Czarnowski's voice is pleasant and the vocals are centered and fully present above the instruments, but are never too big. His guitar work is creative with a light and open style that fully supports the lyrics and arrangements. Philosophically speaking, the characters seem to be struggling to be good, they see its virtue and know it intellectually, and, although not wanting to, they admit to falling short. There are lost opportunities, realizations and transformation, and an almost youthful, innocent approach in the pursuit of remaining hopeful. That hopefulness counters the melancholy I sense throughout much of the album.
"Land Where the Gauchos Roam" opens with acoustic guitar picking and insistent down-strum accents along with Drew Cady on cello, a perfect instrumental choice as I've always felt the cello produces the sound of the soul. We're sitting at this table, just us two. Only this time I'm talking to just a picture of you. This is a song of remembrance and recounts the impact of friendship, and how it shaped and molded him into who he is today. The words are lamenting but the arrangement feels upbeat and uplifting, as if to reflect good times and a love of life and adventure. The chorus begins It's holy, holy as hell, as it compares the memory of a well-lived life of wonder to the loss of it and the loss of a companion. At 2:51 there is an uncomplicated exchange between guitar and cello, with the cello rising more prominently at times in compelling musical expression. After another chorus, the instruments take us to the end.
The acoustic guitar picking that starts off "Nothing That Can't Be Fixed with Love" is Beatles-esque and reminds me a little of the opening lines of "Norwegian Wood." This song is introspective and regretful of self-centered actions that get in the way of living a pleasant life. The whole thing shifts for the chorus at 1:07; the mood is lighter, the chords are different, and we hear Megan Fisher singing backing vocals. Her voice is not like Czarnowski's but blends beautifully with it as if to bring him around to a more positive way of thinking, as though she is a partner in what it means to declare that there is indeed nothing that can't be fixed with love. This is followed by moody confessions. There's a place inside I hide in, rarely sees the light of day, a soul somehow divided, my temper is the price I pay. I often take my loves for granted. When there's nothing left to say, and I've stomped and raved and ranted, and tried to kiss the tears away. At 2:55, we hear the chorus again, a calming recentering and reaffirming of the good that love can do. He wants to believe it.
In contrast to most tracks on the album, "All My Friends Feel Like Home" begins light-hearted, bright, and sunny. Berkley plays acoustic guitar and bass, and the late Dennis Caplinger plays banjo, also contributing mandolin and fiddle throughout. This is a happy, grateful song that feels exactly like what it's singing about: The sun is high and friends are heading over, then the time for music's coming up. Smiling faces, hugs and laughter, we'll pick it up just right where we left off. It sounds like a backyard get-together, and I can picture it easily in my mind's eye. A choir of vocalists picks up the early chorus at :31 with Wherever we go, wherever we are, we will drink a little wine, make a little music, summer sunshine, a real good time. The people I love are all coming over. Well, all my friends feel like home. At 2:10 Caplinger begins with a banjo solo and damn, if it doesn't sound cheerful; then at 2:25 he moves to fiddle, to which I'm partial. This song has just got feel-good all over it.
The beauty of the title track "Thank You" is in the chorus. The words and the melody get stuck in your head and you'll find yourself thanking the universe all day long. Megan Fisher's backing vocals shine on the simple words, Thank you, oh, thank you, I say thank you, I'm ready now. The bridge at 1:33 is another moment with the beautiful blending of multiple voices as they sing, Here we are in the middle of a dream. Here we are floating down this living stream. It's so simple to form this state of mind. It's an affirmation loved by all mankind. Then they go back to the chorus with its emphatic and repeated expression of gratitude, thank you.
In addition to Czarnowski on acoustic guitar and lead vocals, the musicians are Jeff Berkley on guitars and bass; Drew Cady on cello; Dennis Caplinger on banjo, fiddle, and mandolin; Megan Fisher on background vocals; Sharon Whyte on piano; and the choir on "All My Friends Feel Like Home" is Nitza Leichtling, Drew Cady, John Ciullo, Jean Kelleher, and Megan Fisher. CDs of Thank You are available and it streams on all platforms. Have a listen!