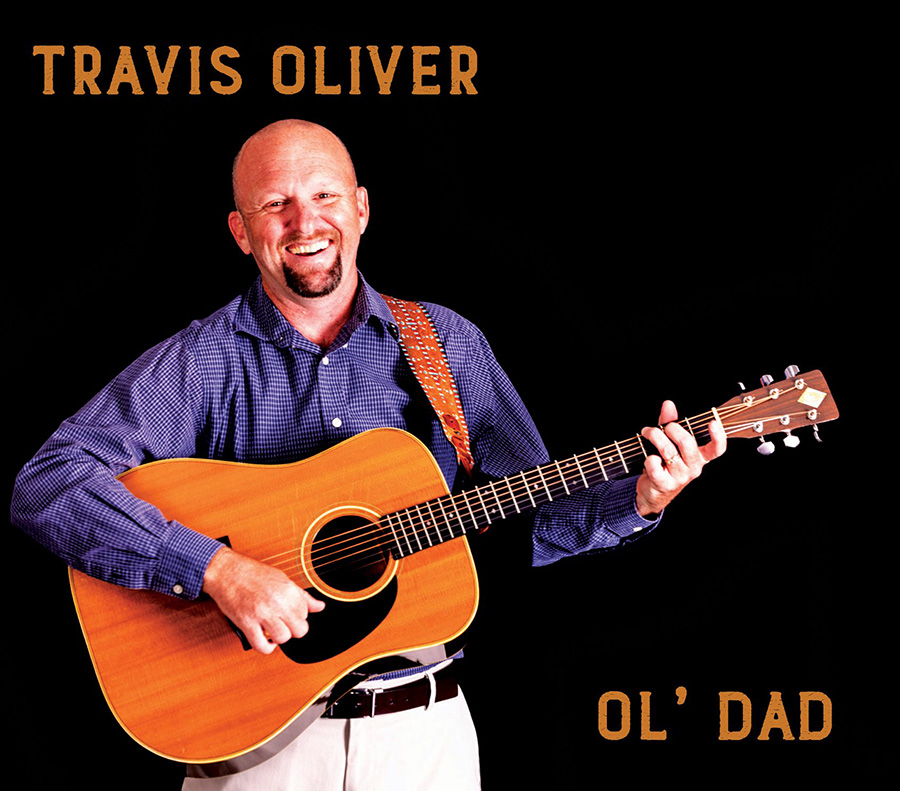 "When your loved one is gone, here is what you can do—share the things they shared with you." That's the underlying theme as duly stated in the liner notes throughout Ol' Dad, 12 tracks of original tunes from singer/songwriter and guitarist Travis Oliver, recorded at Signature Sound Studio in San Diego.
His songs are nostalgic life reflections ornamented by dazzling acoustic flatpick guitar interludes and solos shared between himself and flatpick guitar wiz Tyler Grant, who also produced the album.
Like other bluegrass guitarists who combine their storytelling with flawless flatpick guitar lines, à la Norman Blake, Dan Crary, and Tony Rice, Oliver holds his own throughout. He's carrying on this musical tradition in remembrance of his father, John Elliott Oliver, also a guitarist who guided his son from an early age in the flatpicking guitar style, hence Oliver naming his guitar "Ol' Dad," in honor of his dad who passed away in 2020.
Oliver includes five tracks that were co-writes with his dad, with the opening track "Granny Gracie," a fiddle reel that he and his dad would always start their live jams with, along with the clever lyrical goodie, "Cornbread with Dad." "Cornbread, cornbread, a magical treat for you, cornbread, cornbread, it'll make you feel brand new," followed by the simple Carter strum accompaniment on "Way Down in Georgia."
Oliver takes us back to his family roots in "Way Down Deep," effortlessly flatpicking some classic Flatt & Scruggs licks in between his lyrics. "Just take me back to the old homeplace…back to my old mountain home," along with a 180-degree turn on "C'mon Let's Boogie," a catchy country blues ditty amid Oliver's tasty blues tinged licks. "Clap your hands and gather 'round, let's all get down to the boogie sound."
The title track, "Ol' Dad," appropriately tells the story of his dad's influence on his guitar journey, narrated in true Arlo Guthrie "talking blues" style. "Gonna show you a few things my daddy taught to me…make you giggle and shout and wanna tap your feet." The instrumental track, "Sandia Pyramid," spotlights Oliver's melodic flatpick chops with cleanly executed flowing eighth notes throughout.
Oliver has a true knack with clever and often humorous lyrics as in "Laptop for a Flattop." "I don't mind workin,' don't get me wrong…just because of my day job I get to write this song." And then the tender side on "Here with Me." "All my life I've searched for you, and my heart was torn in two," along with the 6/8-tempo waltz, "Desert Wildflower Waltz." "So, I tried everything to show my love to my honey, with rubies, diamonds, and pearls," in addition to "Rain Pouring Down." "Let the rain come pouring down, so I can listen to the beating sound…that takes me away to that special place, I feel your love and sweet embrace," embellished with a smokin' flatpick guitar solo from Grant.
The closing track, "Ain't Half Bad," a co-write with Kevin Mankins, sheds light on the wisdom of love with the repeating chorus: "And it's not that easy, but it ain't half bad…you got to live and love every day, for now is all we have," bringing the curtain down on an entertaining project filled with well-crafted story lines, superb flatpicking motifs, and solos all anchored by Oliver's passionate voice resonating in tandem with his 'Ol' Dad' guitar.