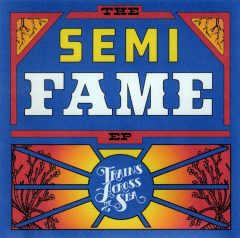 Trains Across the Sea made an impression recently with Before It Ends, a collection of roots tunes by Midwest transplant and bandleader Andy Gallagher. That project included alt-country and pop ballads and rockers, some with protest messages and others with smart, often autobiographical lyrics.
It turns out that Gallagher was busy before leaving Columbus, Ohio to venture to the Left Coast in 2007, and the new TAS release is The Semi Fame. This time, it is a five-track EP that resulted from a larger, 13-song musical (SEMI FAME: The Truck Route to Broadway) that Gallagher wrote and produced in Columbus (it had a brief, but sold out and successful run there). The unusual lead character Pete is a long-haul trucker with a great voice who wants to be a Broadway star; he follows his 1984 travels via the open road and its diners to New York, meeting interesting characters along the way as he pursues his unlikely dream.
It was home-recorded by Gallagher using a different group of players than Before It Ends, and supplements guitar, vocals, keys, and harmonica with Paul Tillery on bass, Jonathan Sebat on drums, and Trent Rowland adding guest vocals on one tune.
"This Country Runs on Diesel" opens and transcends the concept, a pleasing rocker that celebrates the men who push tractor trailers that haul what people eat on lonely stretches of road, drawing a great picture of a solitary figure with "eighty thousand pounds a thousand miles from home." The next song is likely key to the development of Pete's character, who is still on the road. "The Writing on the Wall" talks about the etchings on a bathroom stall that touch off memories of a disillusioned childhood acting career and growing up to end up behind the wheel of an 18-wheeler. The tune is musically effective but stops abruptly after just over two minutes.
"Broadway" is a keyboard ballad that moves the story forward as an examination of Pete's aspirations by a truck stop waitress. It is catchy, and captures the plight of a hard-working road diner mother confessor who gets to hear the anguish of truckers whose dreams have turned to dust: "if you want to go to Broadway you should go and leave me out here on the road runnin' a diner." Another ballad follows, "When I Was a Lad," chronicling the accidental death of his trucker father (in a road accident, of course) as it set the stage for his decision to get behind the wheel. The disc closes with "Life on the Highway," an up-tempo tune that finds Pete and friend/fellow driver Dan exchanging vocals about how Dan is glad to be driving, and Pete (now on Broadway) is doing drugs and enjoying fame. It takes a bit of listening, since both Gallagher and guest vocalist Rowland sound pretty similar to one another, but the lyrical discussion shows how maybe the life of a trucker might be more satisfying in many ways than that of the star.
The Semi Fame is interesting, contains some solid music, and gives another glimpse of Andy Gallagher's considerable talent.