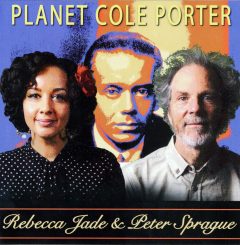 For the songwriters of the great American Songbook–among them Lerner and Lowe, Rogers and Hart, Irving Berlin, and particularly in the case of brothers George and Ira Gershwin–the adjective genius is not a misused appellation. Yet even among these great talents, the music of Cole Porter stands apart. His pitch perfect marrying of lively and sophisticated lyrics with music that was equally delightful and engaging was a cut above his greatly gifted peers.
Like Porter, Peter Sprague is used to superlatives when his name is mentioned. Sprague has worked with Sonny Rollins and Chick Corea. He has also won more than a dozen local music awards, all of them having the word "Best" in the title. With liveliness and inventiveness, a performance by Sprague never disappoints. A veteran of 23 years of performing, singer Rebecca Jade has not let any genre of music go unexplored, and her soul renditions have been known to bring down the house.
Okay, so get this, Rebecca Jade and Peter Sprague have teamed up to produce a CD of Cole Porter tunes. Let that sink in. Rebecca Jade, Peter Sprague, and Cole Porter. Can you think of anything better? You can't, can you? This is one of those events when the gods take notice of us mortals. How could anything get any better?
With Cole Porter there is always a caveat. Yes, the music is great. But whenever musicians perform his songs, there are always the echoes of Frank Sinatra, Ella Fitzgerald, and others who created masterpieces with Porter's music. (This includes the apotheosis of Western Civilization, when, late, late on January 12th [or it may have gotten to be early, early morning of January 13th] 1956, Frank Sinatra recorded "I've Got You Under My Skin" with the Nelson Riddle Orchestra.)
The obvious dilemma for musicians is how to mine and honor this rich legacy and still make a new and credible musical mark upon Porter's body of work. Here, Sprague succeeds with inventive and fresh arrangements. For some of the tunes there are tempo changes and even an extended riff-based interlude for solos on "Just One of Those Things."
It is obvious that Rebecca Jade is very much at home with these numbers. She sings with ease and grace, and is masterful in developing phrasing that renews these classic tunes. She also taps into Porter's playfulness as well as the great emotional heft that is a signature of any of his songs.
Joining the duo are bassist Gunnar Biggs and Drummer Duncan Moore. Brother Tripp Sprague plays saxophone, harmonica, and flute. And there are the additions of Scott Kyle on trombone and Tommy Aros on percussion. All the performers are tops. Peter Sprague did all the mixing and mastering and proves that he deserved all those As that he earned in mixing and mastering school.
It is such a joy to review CDs as good as this one. Planet Cole Porter receives my highest recommendation.