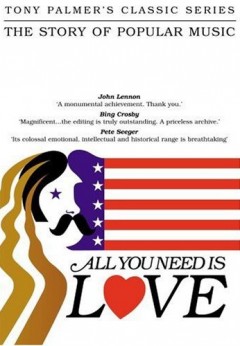 It won't be long now. Soon I won't be boring my family and newly made friends on park benches with updates regarding the movie I'm making. A Box Full of Rocks: The El Cajon Years of Lester Bangs is almost done. Sure, there are many finishing touches. But, the end is in sight. I'm even thinking about life as a movie producer beyond just this film. For instance, I'm now plotting my next documentary: Capra's Flight, which examines the 1929 Frank Capra aerial combat film that was filmed along Chase Avenue in El Cajon. I'm also working on my nom de porn in the event that my newly acquired skills as a director are needed "beyond the blue door." So far, it's a toss up (not to be confused with a toss off) between Inyer Pantzalot and Dick Butkis. (Gee, I just realized the last one's been taken… sort of.)
But, as much as I may gloat about the journey this film has led me on, I am completely humbled every time I think about the real music documentarians who have made not just one film but hundreds over their illustrious careers. One superb example of this is Tony Palmer, who directed All You Need Is Love: The Story of Popular Music, a 17-episode series that first appeared on the BBC in 1977.
Palmer's body of work is truly intimidating. (I doubt he'll ever have to stoop to working behind the blue door.) Comedian Tom Lehrer once stated: "It's a sobering thought to realize that when Mozart was my age, he had been dead for five years." When Tony Palmer was my age, he had already directed nearly 60 films including 200 Motels with Frank Zappa and All My Loving a sort of prequel to All You Need Is Love, which, yes, had the Beatles' blessing. Palmer has gone on to work on 40 more films, not to mention 20 theatrical productions. During his free time, he has written eight books and many more newspaper and magazine articles.
Along the way, Mr. Palmer has made friends with almost everybody in the Rock biz, including John Lennon, who acted as an early friend and "mentor." With such an extensive resume, it's difficult to select just one opus maximus. But, over and over, the seminal All You Need Is Love keeps rising to the top.
"It all started with a chance encounter with John Lennon," Palmer once wrote. Lennon was looking for someone to film a history of American popular music, which would include ragtime, musical theater, blues, jazz, country, the gamut. The idea was to trace the origins of rock and roll, giving the then-adolescent musical genre a family tree and a sense of legitimacy. Lennon was frustrated at the time with the BBC censors and the fact that the new generation of bands, such as the Who, Cream, and Pink Floyd, couldn't get any air time in England despite their immense popularity.
With Lennon's clout, the project was hatched. Yet, funding and production was another story. And, it took a while for Palmer to get various BBC honchos and London impresarios to green light the series and secure financial backing. Next, Palmer asked a number of rock writers and journalists to write "2000 words on what their particular subject meant to them." So, Leonard Feather wrote about jazz, Derek Taylor wrote about the Beatles, etc. And, oh yes, Lester Bangs wrote about the commercialization of and hypocrisy within the music industry. (Lester also would appear in the series, providing some of the only footage of Lester appearing on film.) These 2000-word essays would become the backbone of each episode. But, the script was loose. The truth would be told in the actual shooting.
In 1975-1976, Palmer and a film crew, "criss-crossed the United States, north, south, east, and west." They also visited Africa, Europe, and the far reaches of the United Kingdom, all in search of the Ur-music that would someday evolve into rock and roll. With a working list of 500 musicians, they interviewed everybody from Eubie Blake and Irving Berlin to Pete Seeger to Dizzy Gillespie to Muddy Waters to Bill Wyman. And, they captured a who's-who of live performances.
During several months, Palmer shot over one million feet of film. The result was a 1005-minute documentary that spanned the 19th century to the mid-1970s and covered not only music but also the underlying political threads, such as racism, which spawned that thing called rock and roll.
Unfortunately, just as they were wrapping up, the punk scene exploded in London. But, out of money, there was just no way to film an 18th episode. "My biggest omission," Palmer explains. Nevertheless, All You Need Is Love: The Story of Popular Music ruled its timeslot on the BBC, proving that rock and roll was worthy for national television. A DVD box set was released in 2008.
Mr. Palmer still is hard at work on new projects and is always ready to answer emails from his worldwide following.
At this pace, I should surpass Tony Palmer's body of work when, if my calculations are correct, I turn 267 years old.