This month we take a look at Charles McPherson's forthcoming album, ask five questions of Karla Kane / the Corner Laughers, have a conversation with singer Whitney Shay, plus new and classic strange stage stories from Ronnie Barnett (the Muffs) and Max Eric Bergstrom (Avenue Army).
New Album from Charles McPherson!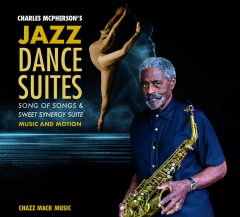 Something to look forward to! A new album, Jazz Dance Suites, from legendary saxophonist Charles McPherson is on the way—out on September 25. The CD, which was recorded at the legendary Van Gelder Studio in New Jersey, features 15 original compositions and includes a 16-page booklet. McPherson has played with many of the greats, from Charles Mingus to Lionel Hampton, and for his 24th solo album he has put together a stellar lineup, including trumpeter Terrell Stafford, singer Lorraine Castellanos, pianists Jeb Patton and Randy Porter, drummer Billy Drummond, bassist David Wong, and guitarist Yotam Silberstein. The new album takes its inspiration from and is dedicated to McPherson's daughter Camille, who has danced with the San Diego Ballet for eight seasons, and as is confirmed by the album's title, is part of his long standing collaboration with the dance company. You can order Jazz Dance Suites at the link below.
www.charlesmcpherson.com/chazz-mack-music
Five Questions for Karla Kane of the Corner Laughers
Pop/rock fans will want to hear the latest album from Redwood City-based quartet, the Corner Laughers. Temescal Telegraph is rightfully winning much acclaim for its ultra-melodic gems, equal parts folk and power pop, led by singer/songwriter's Karla Kane's ukulele, alongside Khoi Huynh (piano, bass, guitars, backing vocals, percussion), KC Bowman (guitars, bass, keyboards, backing vocals, percussion), and Charlie Crabtree (drums, percussion). Here we ask five questions of Karla Kane.
How did you choose the ukulele as your instrument?
Many years ago I came across a ukulele at Khoi's place and just on a whim picked it up. He taught me a couple of chords and I found it enjoyable, so I just kept at it.
How old were you when you gave your first performance, what did you play, and how was it received?
Well I started dance classes and musical theater as a young child, if that counts. My first show was as a six-year-old in The King and I! The first Corner Laughers show, which was also my first band performance, was when I was about 23, I think. It was at the International Pop Overthrow Festival in San Francisco and the first song we played was "See You in Hell." We were pretty nervous and, thankfully, the performance was well received.
Who is your favorite cartoon character?
Hmmm, I'm going to go with all the characters on the BBC children's cartoon Sarah and Duck. So charming!
Who are your biggest musical influences?
Too many to name, of course. Really, all my bandmates, label mates and folks we've played with over the years. Broadway and show-tune greats. Martin Newell. Kirsty MacColl. The Beach Boys. XTC.
What's your favorite thing about being a musician?
As a songwriter, I like being able to capture a whole world inside a tiny, song-size package. As a musician I like seeing the development from a homespun song idea to a full-fledged production in the studio. And as a person I like getting to meet, spend time with, and become friends with so many other wonderful artists.
Strange Stage Stories
Ronnie Barnett / the Muffs: We played in Gothenburg, Sweden to a very enthusiastic crowd. Someone yelled "Show us your ****!", Kim very calmly stepped to the front & motioned forward with her finger. He actually did as she requested and when he got within reach, she punched him square in the jaw!
Max Eric Bergstrom / Avenue Army: Technology is a funny thing and I think it is evolving in some areas of life and devolving in others. A guy from the audience approached me mid-song while I was on stage in front of a pretty good-sized crowd. He hopped right on stage and proceeded to have a full-on conversation with me while I was in the middle of performing. I finally just stopped playing, and he truly couldn't figure out what happened to the music. Anyway, he started getting nervous from the silence and told me that he wanted me to play a Taylor Swift song. Nothing against Swifty, but I had just been playing a pretty raw, blues/funk tune, so this was totally opposite of the vibe from what the room had been feeling. I told him I just didn't know the song and he started getting even more frustrated. He quickly pulled out his phone, pulled up the song in iTunes, and put it to my ear for 10 seconds. He then said, "Okay, now play it." Haha!! I really couldn't believe that he truly thought I could somehow shazaam the entire song into my brain, download the arrangement into my fingers, and play a song I've never heard before with 10 seconds of cheap iPhone speaker sound in a loud room. This has stuck with me and has actually happened in different capacities since. Unfortunately, it is a grim reality of how some people in the world perceive what artists actually do.
Andrew McKeag / Presidents of the USA, Uncle Joe's Big Ol' Driver: It was my first show with the Presidents, so I was nervous enough as it was, and I had my good friend David Jass watching stage side. During the whole show there was a guy standing right up front, flipping me off.
Karla Kane / the Corner Laughers: Well, at least once during a tour of the UK when my daughter was very young I had to nurse her mid-set. Stage is relative in this case as it was a café but I think it counts.
A Conversation with Whitney Shay
While touring at the moment is out of the question, once things get rolling again, one of the first to head out from San Diego will likely be Whitney Shay. Her new album, Stand Up (Ruf Records), was already drawing major attention when the current situation hit, resulting in the postponement of a world tour in support of her label debut. Shay plays with the cream of the local crop for local shows, regularly taking the stage with the likes of Robin Henkel and Jodie Davis, but internationally she uses musicians from the area she's performing in. "When I've toured in the past in different countries, I've used my international connections to link up with backing musicians there," she said. "Blues and rhythm and blues has a great network of fantastic musicians all around the world, so it's been a great experience meeting and working with so many different people." 2019 saw Shay perform in the U.S., Brazil, Sweden, Finland, Spain, Belgium, France, Mexico, Russia, and Germany.
Have you always wanted to be a musician?
I've known that I wanted to be a performer and sing since I was three years old, but finding that outlet through being a musician came about 10 years ago. I have a lot of musical influences but two that always top my list are Etta James and Bonnie Raitt. Both had/have long careers crossing genre lines, with completely unique voices and styles that made them icons.
Did you start out as a blues singer?
I started singing with bands about 10 years ago when I answered a Craigslist ad and started a duo singing jazz standards and swing. Blues came shortly afterward when I befriended some blues musicians in the community and started taking guitar lessons from Robin Henkel. Robin and I bonded over our love of Elmore James and slide guitar, and shortly thereafter we started playing together.
Would you consider yourself a soul or blues singer? How would you describe your sound?
For me blues, jazz, soul, and rhythm and blues all fall under the same umbrella of "soulful music," and I really love being able to listen and perform all of it. I would consider myself a soul-blues singer. To me I've always identified with singers like Etta James because she sang so many styles but did everything with her own unique style, so you knew it was always her. I like to say my sound is the energy of Little Richard and Otis Redding meets Bonnie Raitt.
You've played in South America and Europe. Any standout memories from those trips? Are audiences different there?
In South America—Brazil mostly, since I've had the most experience touring there in SA—I noticed that the audiences are full of young people as it seems like live music is such a part of their culture. European audiences are really wonderful as well. In both places they really seem to have a great appreciation for American music.
It's a tough biz to be a part of—what drives you?
I've known that I wanted to be a performer since I was three years old and I've never faltered from that. I guess what drives me is 1) my passion for what I do, 2) my perfectionism as I'm constantly striving to get better, and 3) that I get to bring people joy for a living and that's a truly beautiful thing.