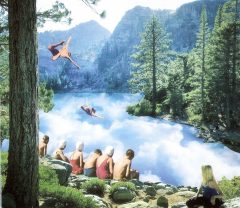 Zach Phillips has released a new album, and his bio indicates that The Wine of Youth represents a return to performing after a 13-year absence. While the web also shows that he has been involved in the business side of music, the new project shows that the pop singer/songwriter is all in on a 13-track album recorded by Gregg Montante. Phillips handles the vocals, guitars, keyboards, and mandolin, while Montante adds bass, drums, string arrangements and slide guitar; Bobby Cressey plays keys and Gloria Taylor appears on backing vocals.
The music here is heavily produced and arranged. A short instrumental montage that sounds like a thundering herd of musicians play on it (it's all Phillips), leads into "Ladybird," which introduces his comfortable voice, mixed hot and wrapped in an envelope of guitars, piano, and organ. It all clicks well, as this catchy track with lyrics about an idyllic lover features some tasty electric guitar filigree on the bridge. Phillips' vocals are double-tracked on many tracks, including "The Lonely Hunter," which combines a guitar hook with slide and keyboard-led buildups. He sings poetically inspired lyrics like "Rays of empty blessings rain on my me," and while it borders on being overproduced, Phillips' just-right vocal and the whimsy of the lyrics help.
The up-tempo "Spirits Rising from the Lake" features more cranked up keys and guitars in support of Phillips, "I was out there all alone and in the rocks/ No satellite to tell me where I was/ Lost in East LA, my phone was dead all day/ And I don't know why they showed themselves at all." The foot stays on the gas for "Cascadia," a brisk country-rock tune with wall-to-wall vocal harmonies. The electric guitar-led break sounds not unlike Keith Richards, then gives way to mandolin riffing, then a verse with acoustic guitar fills in the gaps. Like others here, the arrangement throws everything in the studio together—and here it all adds up to the disc highlight.
"Cemetery Girl" is a waltz-beat song about a legendary ghost/woman who "walks in the hills every night." Good dynamics mark the quieter, softly rendered "Light is Light," a fingerpicked ballad that stands out because the arrangement stays lean—with just Phillips' double-tracked voice, bass, and some guitar overdubs.
It's back to a more filled-out sound on "Caroline" and the tune relays Phillips' infatuation with a woman, as "I know that I'm getting older/ Twilight's colder, days are too." Again, the harmonies work well, and a nice piano break helps the longest track in the set sink in. SoCal is the topic of "Doesn't Feel Like California," about the desert and earthquakes; it is followed by "Hey, San Diego," a good-time love note to his current hometown. Phillips sings about how "I never seen a city that sings the way you do/ You've got an ocean made of diamonds/ You've got women with golden hair."
Zach Phillips' The Wine of Youth is a solid set of pop that fans of the genre should enjoy.