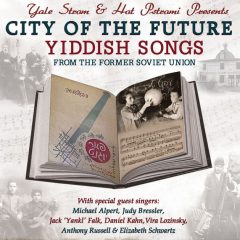 Yale Strom is a musician, documentarian, author, and ethnographer that I had the privilege of profiling in last month's Troubadour. His latest disk, Yale Strom and Hot Pstromi Present: City of the Future, Yiddish Songs from the Former Soviet Union, is a remarkable recording. The material, interpretation, and the performances of this disk make it a truly exceptional musical experience.
For this recording Strom tapped into the relatively obscure Soviet composer Shmuel (Samuel) Vladimirovich Polonski. Active during the 1930s, this Jewish musician composed 19 songs for a songbook intended to be performed by a children's choir. Strom took these songs and rearranged them for small ensembles of guitar, bass, accordion, saxophone, and violin, as well as seven singers.
For the songbook, Polonski drew largely on his Jewish tradition of music as well as the folk music of Russia and his native Ukraine. He was nonetheless a serious composer in a land that produced modernists such as Prokofiev, Stravinsky, and Shostakovich. This can be heard in such songs as "The Young Guard," which departs from the tonal characteristics of traditional klezmer or Jewish music. Strom wrote intros and outros for all of the songs. As well, he allowed himself a great degree of freedom in interpreting Polonski's work. There are splashes of dissonance and experimentation, as well as touches of jazz.
Strom assembled a stellar line-up of musicians for this project, most of whom have been involved with Strom's Hot Pstromi project at one time or another: Fred Benedetti on guitar, Jeff Pekarek on bass, Strom on violin, Duncan Moore on drums, Trip Sprague and Norbert Stachel on woodwinds, and Peter Stan on accordion. But it is the singers–Judy Bressler, Vira Lozinsky, Strom's wife Elizabeth Schwartz, Daniel Kahn, Anthony Russell, and Jack Falk–who take center stage and make City of the Future the true pleasure that it is. All the singing is simply beautiful.
This melding of tradition with the 20th century and 21st century contains all the richness, playfulness, and liveliness of Jewish klezmer music. It also engaged me and had me listening intently as happens with many jazz or classical recordings. I doubt if they exist, but–if these songs had been recorded by a children's choir in the Soviet Union back in the 1930s–it would be a great pleasure to hear them in comparison to what Strom and Hot Pstromi have achieved here.
Recorded at Rancho Bernardo's Studio West, City of the Future is one of the best sounding recordings that I've run across in recent years. From the clarity of the guitar to the timbre of the baritone saxophone, to the distinctive voices of all the singers, everything comes through; nothing is buried in the mix. With the liveliness of all the numbers, my guess is that most of the performances were done "live" in studio, with few overdubs or other recording studio wizardry. Much credit is due to Nick Brewer, sound engineer, and Tripp Sprague, who performed the mixing and mastering.
The disk has more than an hour of music, for that I give it six bonus points. Two enthusiastic thumbs up for City of the Future.