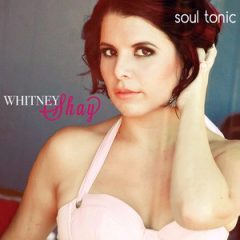 You gotta hear this!" I said this to my wife when I put Soul Tonic, the new CD by local singer Whitney Shay, into the disk player. Moments later the Hammond organ swelled and the sax section pulled into top gear with a thick Motown-laden backup; as the tambourine rang out and Shay sang the first lines of "Can't Shake It," a reprised Etta James hit from 1964, my wife got that look of pure joy that eight-year-olds beam when they get a new puppy.
"This is fantastic!" she said.
I nodded back in complete agreement.
Shay has been making her mark on the local music scene for the last couple of years. With a voice and style in the ranks of Nancy Wilson or Dinah Washington, she has been gaining greater and greater notoriety and success. Her schedule includes Humphrey's Backstage, the U.S. Grant hotel, Patrick's II, the Gaslamp Speakeasy, as well as appearances with the JazzKatz and blues great Robin Henkel.
Beginning with the design of the CD's packaging, full of populuxe angles and the neon hues of teal and magenta, Soul Tonic clearly signals that it has both feet firmly planted in the sounds of soul's post-war heyday, when Diana Ross was Supreme and the harmonies of the Four Tops and the funk of James Brown drifted from the dashboard of your Chevy's AM radio.
Soul Tonic is Shay's first CD, and she wisely teamed up with musical genius Archie Thompson for this effort. Employing the studio wizardry of multi-tracking, Thompson provides the lion's share of music. He plays keyboards, saxes, bass, and a couple of kitchen sinks. His arrangements are masterful and thoroughly true to form for the sounds that came out of Detroit and Memphis 50 years ago. He also wrote five of the tunes on the disk, which are also nuggets of soul.
If anything, Shay is a versatile singer. She can softly caress a ballad, as she does here with the Burke/Webster classic "Black Coffee," or, employing a light reggae treatment, evoke the intoxicating quality of Billy Holiday's "You Go to My Head." Shay can also let loose, becoming a powerhouse of a vocalist in the footsteps of Etta James, Candi Stanton, and the other soul greats whose hits she covers on this disk.
When Charlie Rich, a silver haired man of considerable maturity, sang "Behind Closed Doors," he suggested the familiarity of a couple with long standing bonds of matrimony. Shay's soulful take on the song accentuates the song's carnal joy. Oh boy! "No Good Lover" gets the bare bones barrelhouse treatment. Shay sings this one as a duet with Nathan James, who also provides some searing guitar work.
One of the best offerings from a local talent, I cannot recommend Soul Tonic more highly. Two thumbs up! My only regret is that I don't have more thumbs.