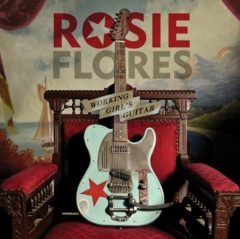 Rockabilly veteran Rosie Flores' latest album, Working Girl's Guitar, shows her extraordinary versatility: as producer (for the first time in 14 recordings), guitar slinger (she is credited with all the guitar parts — electric and acoustic — except for some pedal steel by Greg Leisz), and songwriter (three original tunes on this release). Moreover, the songs themselves— nine in all — demonstrate considerable range. Flores has always been a formidable picker, which makes one wonder why she shared the spotlight — albeit with exceptional session musicians such as Albert Lee — on her prior recordings, dating back to her 1987 self-titled debut. Here, playing her James Trussart Deluxe Steel Top Caster (electric) and A&L Ami Wild Cherry (acoustic), she shines.
Despite her well-deserved reputation as a rockabilly revivalist, the album features some straight-up rock/blues ("Working Girl's Guitar,""Little But I'm Loud"), pop ("Yeah, Yeah," a tribute to the late Duane Jarvis, a friend and fellow songwriter ), doo-wop ("If (I Could Be With You)," written by Lavelle White), a tasty cover of "While My Guitar Gently Weeps," and even a ballad ("Love Must Have Passed Me By," a sweet duet with Bobbie Vee) — all with a retro flair enlivened by Flores' guitar flourishes and solos. But Flores has become a rockabilly legend for a reason. She has a passion — and a genius — for the pre-British Invasion sounds of the 1950s and '60s. Accordingly, the most impressive tracks on Working Girl's Guitar are the ones that pay homage to her musical roots: a Dick Dale-inspired surf guitar instrumental (featuring smoking Hammond organ work by Red Young) penned by Flores, "Surf Dream #5"; "Drug Store Rock and Roll," a rousing cover of her idol Janis Martin's first single (from 1956); and a distinctive reworking of the Elvis Presley hit "Too Much."
On this outing, the Austin-based Flores is capably supported by Tommy Vee on bass, Noah Levy on drums and percussion, T Jarrod Bonta on piano, and (as noted) Greg Leisz on pedal steel (whose work is most evident in "Yeah, Yeah"). Flores has earned many kudos during her non-linear musical career, which has taken her to San Diego (Penelope's Children, Rosie and the Screamers), L.A. ( the Screamin' Sirens), Nashville, and Austin. She has received critical praise (e.g., an LA Weekly Music Award for Best Rockabilly Swing Artist, induction into the Austin Music Hall of Fame), has had profound musical influence (not just within her genre), and has dedicated herself to preserving the memories of female musical pioneers (Lavelle White, Wanda Jackson, Janis Martin — for whom Flores produced a recently released posthumous tribute album, The Blanco Sessions).
Alas, so far at least, fame and commercial success have eluded her, proving that audiences can be fickle and record labels feckless. What matters is the music, and Working Girl's Guitar is an impressive and entertaining display of Flores' virtuosity.