WHISKEY & BURLAP: Questioning Why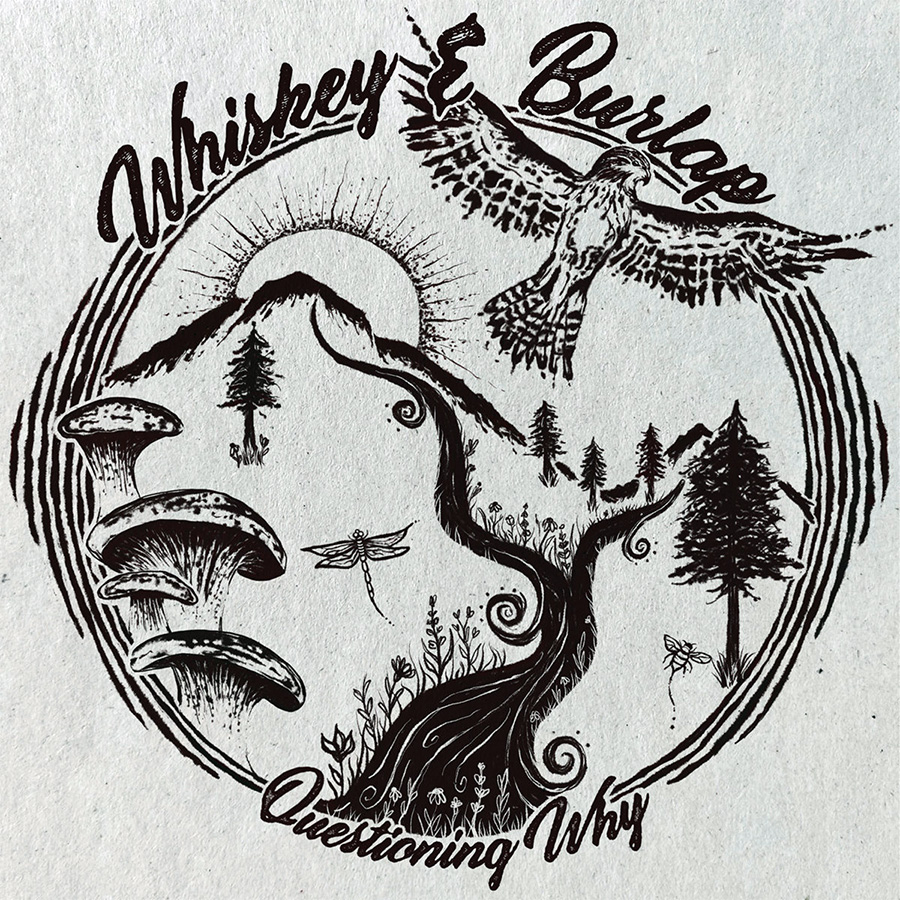 Questioning Why is the second album from the Americana folk-rock trio, Whiskey & Burlap, featuring Camille Sallave, lead and harmony vocals, ukulele, banjolele, percussion; Ethan van Thillo, mandolin, lead and harmony vocals; and Craig McIntosh, guitar, violin, bass, lead and harmony vocals, with additional guest artist Steve Hoshko holding down the low end on stand-up bass.
The 14 tracks, recorded and mixed by Kris Towne at Capricorn Studios in San Diego and mastered by Joe Goodwin, contain all original music and lyrics by the trio. The lyrical writing is filled with beautifully written poetic style metaphors, symbolism, and oxymorons melded throughout with mellifluous vocal harmonies and tight instrumental accompaniment.
The festivities commence with an inviting group vocal a cappella on the opening track, "Don't Get Me Drunk," segueing into Sallave vocalizing in a barroom sing-a-long fashion, "don't get me drunk or I might tell the truth." McIntosh keeps the mood upbeat with the campy novelty tune "Spin the Bottle." "Spin the bottle, tell me which road I should take, I just don't know what else I can do, spin the bottle, spin it so hard it could break, I'm just trying to find my way back to you."
Thillo follows with a breathy pop vocal on "My Favorite Waitress." "Stopped me in my tracks and my heart skipped a beat, it was then and there my heart fell fast," followed by the title track "Questioning Why," a mesmerizing ballad showcasing Sallave's silky smooth voice. "I would give you my hand if you need it, and all the sun and the days…and I would sing to you if you want it, and we could float away."
The trio rocks out on the blues-tinged track, "The Courage," behind McIntosh's raspy voice leading the way, "sunrise blinds my eyes to the fact that I'm running out of time," bolstered by Thillo's blues riffs on mandolin against the bluesy chordal vamp before the jam concludes with a strong round of vocal harmonies. Dulcet violin tones from McIntosh ornaments Sallave's lead vocal on the novelty tune "Teardrops and Oatmeal," followed by the breezy minor-keyed track "Two Pages," with echoes of Joni Mitchell from Sallave's lead vocal. "When I think of you and what comes to mind, the wild wind fills surging inside."
Thillo steps up front and center vocally on the reflective upbeat track "The Older I Get." "The older I get the less I know, I've seen hard times and good ones go," not to be outdone by his lead vocal on "Sad Songs and My Sticky Skin." "Time and tides roll by like the dandelions, making wishes fly." The haunting minor key ballad "Ghost of Me" is one of the many vocal highlights set behind a lush instrumental arrangement with beautifully orchestrated cascading vocal harmonies. "Look up above, the stars sing…they sing to you and they sing to me." Sallave's alluring voice blends smoothly with the vocal harmony from Thillo and McIntosh on the track "Briar Rose." "Keep me still, won't you save my soul, and all that's left of my Briar rose."
The trio steps it up on the folk-rich "Burn Away," with McIntosh's vocal leading the way with harmonious motifs from his violin and Thillo's mandolin. "River flowing through my mind like the slow passage of time…like a snowbank melting in the heat of day, sinking down until it's melted away."
The trio's eclectic array of compositions is duly noted in two upbeat jug band tracks, with sacred overtones. The first, "Sing Neighbor Sing," places the listener right in the pews of a Gospel church, fueled by an introductory vocal a cappella and rhythmic hand clapping, segueing into a nifty mandolin solo from Thillo and a full-throated vocal chorus with an ascending key modulation as Sallave's lead vocal wails to the heavens. "Sing neighbors sing, let it soar above the mountain tops."
The second is the closing track "Travelin' this Road," with what seems to be some symbolism of good versus evil in traveling from the desert to the ocean, again emphasizing their lyrical prowess with moments of dramatic vocal a capellas. "Oh, help me Lord, take me away, take me back to sea level today…done with the dust in my nose, always waiting for the sun to go, just travelin' this road of 395, hoping to make it out alive," putting a powerful finish to a well-crafted collection of lyrical text and musical arrangements intertwined with lovely vocal harmony. Bravo!
.