This time out we have Five Questions for Timothy Joseph; a spotlight on Hemisphere's October 22 album release; a new edition of Strange Stage Stories with Sluka, Josh Rosenblum, Lou Lollio and more; plus reviews of Maple Mars, Colin Blunstone, the California Guitar Trio, and the Sons of Adam, plus a new John Borack production!
FIVE QUESTIONS FOR TIMOTHY JOSEPH OF MINIATURIZED
Timothy Joseph is a bit of a rock 'n' roll renaissance man. Owner of Phazer Control Studios; radio host; and veteran of numerous great bands including the Palace Ballroom, Buckfast Superbee, and now, miniaturized. On October 15, the band releases their eponymous debut album, produced by music legend Mitch Easter (Let's Active, R.E.M.). "So far, I've written and arranged all the songs for miniaturized," Joseph said. "Inspiration usually follows a melody that attaches itself to a momentary connection as I'm playing my guitar. The song usually fleshes out pretty quickly after that. What I write about is determined by the mood or feeling the initial melody conjures. Basically, miniaturized songs overall are takes on the human condition." You can next catch the band on October 22 at the Belly Up Tavern in Solana Beach. Here we put five questions to Timothy Joseph about his work with Mitch Easter on miniaturized's debut release.
What about Mitch Easter's musical approach appealed to you?
I've always been a huge Mitch Easter fan. I first heard R.E.M. 's Murmur when I was eight and my older brother put it on loud, in his room right next to mine. I got up and went in to listen to it with him. The sound of it changed my perspective about how recorded music could be. Even at that age, I was drawn to the way Mitch could make everything sound ethereal and visceral at the same time. He's done so many great records, not to mention the awesomeness of his own band, Let's Active. From the start of our conversations, he had a very poised and easy way about his production ideas. We discussed what kind of record I wanted to make and his suggestions were always seamless with my concepts and ideas. Honestly, it was an incredibly easy collaboration. He didn't change any of the arrangements or lyrics to my songs. Instead, he had production ideas to flesh them out, so they became bionic versions of themselves. It's still kind of a mystery to me how he was able to do it, but I had a blast watching his every move and learning as much as I could from him.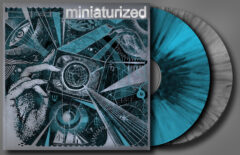 You recorded both here and in North Carolina? How long did the project take?
Mitch flew out to San Diego and stayed with me for nine days. We spent most days at Phaser Control Recording Studio, tracking all the basic tracks for the album. A bunch of really talented guys contributed to the recording: Mario Rubalcaba (Earthless, Hot Snakes, Rocket from the Crypt) played drums on about half the record (with Chris Prescott playing the other half). Both Chris Torres (Chris Torres Band / Ron Blair) and Brian Desjean (No Knife, Get your death on, mistress 77) played bass on some of the tracks. Patrick Heaney assisted Mitch at the board, and I played the guitars. Once we finished, we more or less had 13 songs tracked with drums/bass/rhythm guitars. A couple of months later, I flew out to Mitch's studio, the Fidelitorium in Kernersville, North Carolina. I was out there for about a week. There, we tracked overdubs and put down vocals for a good majority of the 13 tracks. I had planned to fly back and tie up loose ends for the songs we didn't get to, but the pandemic was at its height, and traveling just wasn't in the cards. So, we finished the record remotely with me recording vocals and guitars here and sending them off to Mitch. It was during this time that we decided to add one more track, "Gemstone," to the album. I recorded my parts and sent them to Mitch. Mitch played bass and drums for that song and it came out really great. Then Mitch mixed the record over the next months, sending me tracks as he completed the mixes, which were astounding. And before I knew it, we had a completed LP.
Did Mitch Easter perform on the record?
Mitch played quite a bit on the record at these sessions. To my recollection, he's playing an instrument in one form or another on every song on the album. Sometimes it would just be a shaker or tambourine. But on a few songs, he plays bass and lead guitar. Some of the most bitchin' guitar solos on the album are Mitch Easter just ripping. On top of everything else he can do, the guy is an absolutely astounding guitar player.
What was the studio like?
Mitch's studio is quite an impressive spectacle. It's a beautiful space in a sprawling building built behind his home on a serene plot of land covered in trees next to a huge meadow. It's quite picturesque. Everything there—especially his recording equipment—is impressive. His vintage guitar amp and synth collection is drool-worthy. During the sessions, I played a lot of Mitch's guitars and amps, including a mid-'60s Gibson acoustic used on a hundred great records. It was the guitar used on the opening for "Talk About the Passion" by R.EM. As soon as I played it, I recognized the sound, and it was crazy! Also, I got to track with the Rickenbacker he played on every Let's Active record. A point of great interest for me in the studio was a 1964 Studor 1″ four-track machine, the same model used on countless Beatles recordings. Mitch told me he'd had it for many years but it took a special technician in Nashville 10 years to get it in working studio order because the parts were so rare and hard to get. I have a bunch of pictures of that machine; it was truly beautiful. Mitch planned to run the entire record through the tape machine after mixing to see if any of the old tape magic rubbed off on the sound. When he finally ran it through, it did. My good friend Frank Lee Drennan flew out and hung out with us for a couple of days taking pictures. Mitch and his lovely wife, Tammy, could not have been sweeter or more hospitable to us. It was a beautiful time."
Mitch Easter invited you to play with his band Let's Active at a special gig; what was that like?
Mitch's band, Let's Active, set up a 40-year-anniversary show (November 4, 2021) at the Ramkat theater in Winston-Salem, North Carolina. He invited me to come play a few songs on stage with him and his band. I was humbled and honored. The night was a huge success. Before Let's Active played, there were guest speakers and a visual presentation all paying tribute to Mitch. Countless people recounted the impact Mitch's work had on them, and the love, admiration, and recognition for him in the packed house was evident. I played a few songs on guitar and sang backup. Standing up there it occurred to me that this guy is part of my musical DNA. Getting the chance to play on stage with a hero of mine was surreal, to say the least. It was a great show and watching him rip amazing guitar licks all night was a huge highlight for me. I was all goofy after the show. Of course, Mitch was gracious and humble as ever. He's that kind of guy."
www.miniaturized.online
HEMISPHERE ALBUM RELEASE SHOW OCT 22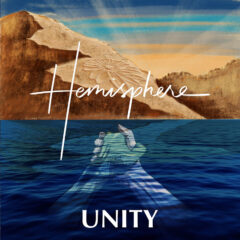 Acclaimed ten-piece group Hemisphere hosts a special album release show for their latest album, Unity, at Humphrey's Backstage Live on October 22. The all-star combo features Don Bowman (vocals/sax), Rob Shinno (guitars/vocoder/vocals), Mike McQuilken (drums), Max Zape (keyboards), Grant Clarkston (bass), Paul Perez (percussion), Chris Klich (saxophone), Paul Seaforth (trumpet), Leonard Patton (vocals), and Janet Hammer (vocals), while the new album is a nice mix of jazz, funk, pop, world music, and even touches of prog, with excellent originals and a reggae recasting of David Bowie's classic "Rebel Rebel." The plan is for Hemisphere to play the album in its entirety, with a set from the Hemi-Funkadelics closing out the night.
https://hemisphereband.com
STRANGE STAGE STORIES
Not matter how much rehearsal, planning, or foresight a performer can put into a performance, things happen.
Baron Lunbeck of Sandollar: Although many strange things have happened on stage while performing (some that I probably shouldn't mention haha) one occasion does seem to pop into my head. We were performing for a big crowd when an attractive young lady wanted to get up on stage and dance. I gave her a hesitant nod and she stormed me, trying to grope and kiss me. At the time I was drinking beer directly out of a full pitcher. She told me to pour the pitcher of beer on her head so that's exactly what I did.
Marissa Grace: We were playing a Queen song and, all of a sudden, a group of kids got up and began performing a choreographed dance in front of us. It was like a flash mob! Extremely cool, but unexpected!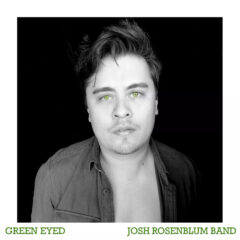 Josh Rosenblum: There are way too many strange things to name. I've had people do backflips, a girl came up and licked our bass player's face, been flashed, but all off color incidents aside, the strangest thing that ever happened was when a guy came up with a straight face, pulled out a ceramic snail, held it out for a few seconds, and placed it in the tip jar, all with a straight face, then just left the venue. If it was a sign I was supposed to understand, it didn't translate although I haven't eaten snail ever since.
Lou Lollio: My favorite cartoon artist is Charles Schultz of "Charlie Brown" fame. I was at a Church in Los Angeles called the Vineyard when someone introduced me to Charles Schultz and I said aren't you Charlie Brown? He laughed. That is what it is like in Los Angeles. You never know who you are going to meet. It is a lot of fun being a musician. Just sing a song and you will feel better.
Sluka: I was trying to be cool at a NYC club wearing tight black leather pants and they split. I tried to own it and be cocky, but then I kicked out the power cable to the PA and everything went silent… until the laughter, boos, and insults came. It is true about NYC… you have to learn to be tough and deal with rough crowds… if you can make there you can make it anywhere. I also learned I will never be cool.
REVIEWS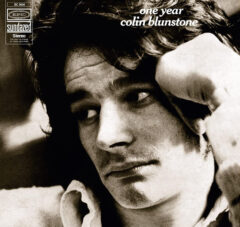 Colin Blunstone/One Year: 50th Anniversary Edition (Sundazed)
The basics: reissue of the Zombies lead singer's debut solo album, now with 14 previously unreleased bonus tracks. An absolutely essential purchase for any fan of the Zombies or orchestral pop. Highlights include remakes of "She Loves the Way He Loves Her" and "Smokey Day," the U.K. hit "Say You Don't Mind," and the gorgeous "Caroline Goodbye." With guest appearances including Rod Argent, high production values and, most important, songs with plenty of hooks and melody, One Year is practically a lost Zombies album. Even diehards with a mint copy of this gem in their collection will need this re-issue as it now includes 14 demos, featuring just Blunstone's voice and acoustic guitar running through a few favorites, including "Caroline Goodbye" and "Though You Are Far Away," with a whopping nine previously unknown tunes!
https://sundazed.com/colin-blunstone-one-year-50th-anniversary-edition-with-cd-with-14-bonus-tracks.aspx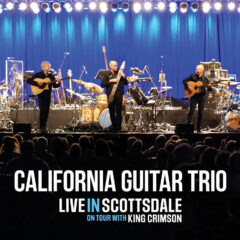 California Guitar Trio/Live in Scottsdale
The basics: six tracks recorded live in Scottsdale Arizona while the group was on tour with King Crimson; five originals and a 10:18 cover of Pink Floyd's "Echoes." Featuring acoustic guitarists Paul Richards and Bert Lams alongside Chapman Stick player Tom Griesgraber, the trio weaves an amazing aural soundtrack, topped by virtuoso performances and intricate arrangements that more than make up for the lack of any additional instrumentation. Fans of progressive rock, acoustic guitar, instrumental soundtracks and the like will marvel at the performances by these musical artisans, all the more impressive because this is a live album. Favorite track is the opener "Andromeda," but everything here is well worth a listen.
www.cgtrio.com
Maple Mars/Someone's Got to Listen (Big Stir 0064)
The basics: 10 new power-pop tunes from this longtime Rick Hromadka-led combo. First off, this album sounds fantastic, with top-notch production across the board. But, more important, all ten tracks sound like radio-friendly singles. Hromadka is an excellent tunesmith; while all the tunes certainly hit the "power-pop" button, Maple Mars' sound is more expansive than that. The quirky chording of "Anchors Away" is matched to a hook-filled melody and Keith Moon-ish drumming in parts, while lead single "Gliding" is a winner, starting with a dreamy keyboard-synth intro, before exploding into a sonic powerhouse, mixing soaring vocals and jangle chords to great effect. Slower tunes such as "Silver Craft" also work well, with echoes of Bowie, the variety making for an album that's well paced and a really good listen.
https://bigstirrecords.bandcamp.com/album/someones-got-to-listen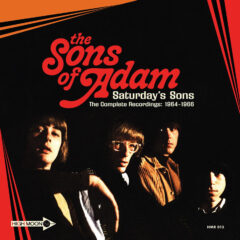 The Sons of Adam/Saturday's Sons: The Complete Recordings 1964-1966 (High Moon Records)
The basics: 24 tracks from this legendary Los Angeles-based combo, covering an amazing two years and featuring rare vinyl sides, outtakes, and demos as well as a 1966 live show recorded at San Francisco's famed Avalon Ballroom. The band was led by guitarist Randy Holden (Blue Cheer, the Other Half), alongside singer Jac Ttanna (Genesis), bassist Mike Port, and drummer Michael Stuart-Ware (Love). From that lineup alone you can ascertain this is an important release. First up, the eight live tracks here sound really good considering their vintage, with originals like "Mr. Sun," "The Long Road," and a great version of "Go Away," mixed in with covers of the Yardbirds and Them. Amongst the demos, a version of the Zombies "You Make Me Feel Good" is a gem, while surf tunes by Sons of Adams pre-cursors the Fender IV are all essential for fans of the genre. Adding to the package's appeal is an incredibly detailed 24-page booklet, with lots of rare photos and detailed session notes. If you're a fan of 1960s-era garage, surf or rock 'n' roll, this album belongs in your collection.
www.highmoonrecords.com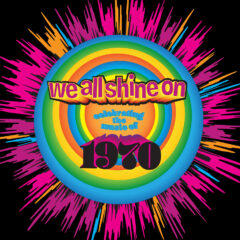 Various Artists/We All Shine On: Celebrating the Music of 1970 (Spyderpop Records, 1970)
The basics: another top-notch production from John Borack; 22 cover songs, the premise being all tunes that hit in 1970, mixing newer artists with favorites such as Bill Lloyd, Richard Barone, and Mitch Easter. Of course, it's hard to top the original classics, but there are plenty of fun versions here. Favorites: Bill Lloyds storming, chiming, jangly "Mama Told Me Not to Come," originally by Three Dog Night; sparkle jets U.K. glam power pop take on the Archies "Sunshine"; and especially Chris Price's recast of Emitt Rhodes "Fresh as a Daisy." While the album is largely a collection of Top 40 AM radio hits of the day, the collection shows broad stylistic reach, concluding with the Used Electrics solid cover of the Stooges' "Loose." A must for any fan of the artists featured or covered; I'm looking forward to collections for successive years!
https://bigstirrecords.bandcamp.com/album/we-all-shine-on-celebrating-the-music-of-1970