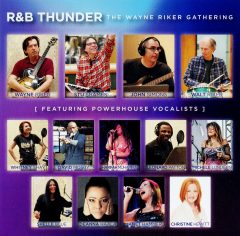 Wayne Riker has established himself with multiple releases since 2008, as well with his many instructional videos and books, his experience as a guitar teacher for decades, and his columns in Guitar Player magazine. His many projects have included various iterations that have paired him with many of the top local blues and jazz players, including his Guitar Decathon CD with ten of the best guitar slingers in the area, and his 2015 Blues Convocation, which included an all-star team of San Diego blues vocalists.
His latest is R&B Thunder, an EP-length, eight-track set that follows the lead of Convocation, with the Wayne Riker Gathering, a four-piece blues/ rock/jazz combo laying down some nifty covers, all sung by some of the top soul singers in town. The quartet is Riker on guitar, Stu Shames on keyboards, John Simons on bass, and Walt Riker on drums, and they give plenty of bottom to the proceedings.
Sharifah Muhammed sings "Tell Mama" on the opener and sets the tone as she digs in, with Riker weaving guitar lines in and out of her vocal, like a call and response. It clicks all the way through. "As Long as I'm Moving" is next, with Shelle Blue on the main mic, with a great backing group (Christine Hewitt, Janet Hammer), as she sings about "Gotta watch myself, these boys are getting' out of hand/ They get 12 years old, start acting like a natural man." Shames and Riker trade jump blues solos that seal the deal.
Another familiar standard gets an injection of energy with "Half Moon." Sung by Michele Lundeen, it is a highlight that features nice buildups and an impressive ascending scale solo by Riker. David Mosby sings "People Get Ready" with the perfect vocal for the gospel-inflected classic, and when Riker decorates it with guitar statements, there are hints of Jeff Beck's well-known licks to be heard. On "Stronger Than Me," Whitney Shay tackles an Amy Winehouse tune with a pulse drawn from reggae, challenging her lover's masculinity: "All I want is for my man to live up to his role… you should be stronger than me."
"All Blues" is a jazzy delight that is wonderfully sung by Leonard Patton. It provides a launching pad for Riker's most propulsive solo statements on the disc before flowing into a scat-sung bridge and ending too soon. On "Thunder," the vocalist is Deanna Haala, who gives it a powerhouse reading, reinforced by the backing singers: "Well this voice was getting loud/ And it just wouldn't give in/ 'Cause I was made to sing." Too true. The set wraps with "Dancing in the Streets" with the seven lead vocalists taking turns and somehow not making it sound crowded—even Riker gets in the act as the song puts in some local references. It's a nice way to close an entertaining program.