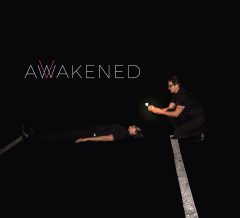 In order to get the most out of Veronica May's new solo album, and this review, please read the excellent cover feature in last month's Troubadour, a few clicks away online. She has been a veteran of the local Americana scene for a decade, much of the time as a member of the Lovebirds with Lindsay White, but much of her new album isn't really very much like her previous music. May carries the diagnosis of Bipolar 1 Illness, with occasional episodes that require hospitalization. Her new CD, Awakened, offers many introspective and illuminating songs in which May opens up, exposing for the listener a glimpse of the struggles she has experienced.
May's band includes her on guitars, vocals, and keys; Jeff Berkley (who produced) on guitars, Jeff Johnson on bass; and Josh Hermsmeier on drums (Jason Mraz, Jeffrey Joe, and two choirs also contribute). The sound on the 14 tracks is raw and stripped down by design, with lots of empty space and intimate echo; those who liked the Cowboy Junkies' Trinity Sessions will love it. The important lyrics are on May's website.
The disc opens up with "Flow," a plugged-in, jagged, and pounding guitar rocker that is an invitation to the listener to "sit back and enjoy the show" as she bares her soul on the path to come. Then, she dives right in with "Heaven and Hell," about living with the dichotomy of being bipolar, with a verse about the times with a "beautiful mind" and one, in the same chords taken down a darker minor half-step, about the time when it is a "terrifying mind." There are electric guitar crescendos and soaring "aahs" by a large choir, and it all clicks effectively. Almost as if an answer, the uplifting "There is Hope" follows, a mid-tempo testimony to triumph over obstacles, resolving into a chorale that includes Mraz resounding its presence.
After a slow, low-down "Evening Blues," May delivers the highlight folk song to her guitar, "Dead Wooden Box." "You take it from me when I take it out on you/ You yell when I'm angry and cry when I'm blue," she sings-and there is a verse about a bedside reunion with her friend in the hospital.
In the middle of the program, May's songs turn from introspection to matters of the heart, yielding some of the strongest in the set. "Within" is a lovely, catchy melody that finds May talking about the importance of getting to know and love yourself, before sharing love with others. Then, on "Shaky Knees" she's fronting the whole band to testify about her lover, a woman who's "got a big heart, big butt, and she's got class." She loves her "like Evel Knievel loves the ride." On "Pennies" May warns over a palette of snarling guitars the dangers of words that can't be retracted or ignored once expended–before joining Berkley for a spiraling lead guitar duel. "Boomerang" is a folk study about May's befriending a defensive woman at her workplace, about rising above the rumor mill and offering part of yourself to others.
Veronica May's Awakened is music that is intensely personal, thought-provoking, and fascinating. CD releases for Veronica May, Jeff Berkley, and Shawn Rohlf take place on May 27 at the Casbah.