VANESSA COLLIER: Live at the Power Station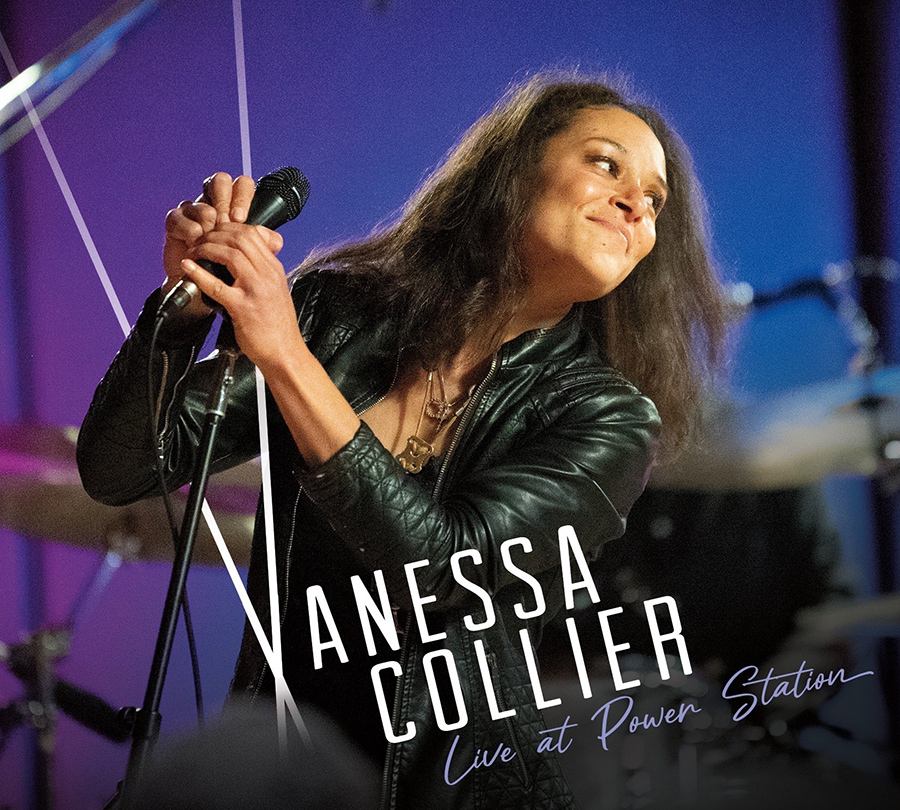 There's nothing better than recording an album with many of your close friends, fans, and family in attendance within the intimate confines of a prominent recording studio in New York City. Such is the case for the 2022 release, Live at the Power Station, by musical dynamo Vanessa Collier, her fifth album since her first release in 2014. This ten-track live recording contains seven originals and three covers, self-produced by Collier, showcasing not only her super soulful lead vocals and songwriting but also her equally soulful heapings of alto and tenor saxophone riffs. Her band provides a more than ample tight rhythm section groove, featuring Laura Chavez on electric guitar, Andrew Crane on bass, Byron Cage on drums, and William Gorman on keys, with Cage and Gorman providing occasional solid background vocal parts.
The hard-hitting rocker, "The Run Around," sets the tone with Collier's out-front vocal, "I can feel my feet trying to carry a different beat, but my heart keeps falling behind," integrated with high-energy tones from her alto sax solo that would make Phil Kenzie tip his cap and take notice, followed by "Whiskey and Women," a blues shuffle highlighted by Chavez' guitar solo that builds in intensity from low register to high amid her smooth phrasing that climaxes into a barrage of nifty repetitive blues lick figures with lyrical echoes of BB King: "you say you're evil when you're with me, oh but you're jealous when we're apart."
The whole band gets spotlighted on the old school soul standard "I Can't Stand the Rain," starting with syncopated interplay from Cage and Crane, followed by some tasty phrases from Gorman on organ, as he joins in a funky improvisational conversation with Cage and Crane. The tune then builds into a high-intensity trading of fours between Collier and Chavez, with Collier soulfully wailing on alto sax with intermittent gritty overtones sprinkled in.
The party really heats up with the New Orleans-style honky-tonk feel on "Sweatin' Like a Pig, Singin' Like an Angel," highlighted by Collier's strong lead vocal in conjunction with Gorman and Cage's full chorus of background harmonies and segueing into Chavez and Collier exchanging burning call and response solos that spotlight Collier honking on tenor sax in full old-school soul mode.
The 14-minute-plus version of heralded singer-songwriter Chris Smithers' "Love Me Like a Man" holds the audience's rapt attention with a nod toward Bonnie Raitt's version of the tune, with Collier having no problem vocally belting out traditional blues. Chavez pulls out a full vocabulary of Delta Blues licks before exploding into a torrid flurry of higher register phrases as the rhythm section goes into high gear, climaxed by a delightful alto sax solo from Collier that is a lesson in how to build dynamically through a lengthy solo with cascading riffs that ascend melodically, never leaving the intended blues scale notes and again adding in some well executed overtones, à la Gato Barbieri.
Collier takes us down to the bayou, Delta Blues style, as she jumps on to her open D-tuned resonator guitar for "When It Don't Come Easy," bolstered by Chavez' down and dirty electric licks. "When it don't come easy, be the river running through…when it don't come easy, nobody's gonna save you." The bouncy pop-flavored "Icarus" could easily be the radio-friendly single with some silky smooth jazz riffs from Collier on alto sax, segueing into a clever half-time vocal chorus with her, Gorman, and Cage. "Fly on little Icarus fly…keep dreaming big and send your wings on the sky."
After a straight-ahead cover of Bono's "When Love Comes to Town," Collier's James Brown influence is duly noted in "Tongue Tied," set perfectly to the band's rhythmic groove with Chavez playing just the right chord voicings and Cage flashing some Clyde Stubblefield chops on drums. When Collier takes the groove "to the bridge," Maceo (Parker) doesn't answer, but no worries as Collier hits all the appropriate notes in his absence and beyond as if Lenny Pickett was sitting in. The boogie-woogie "Two Parts Sugar, One Part Lime" is the perfect closer as Collier's omnipresent fluid alto sax motifs take us home.
Collier has the whole musical package, vocally, and instrumentally and not to be underestimated as a songwriter. She never overplays as her solos hit the mark precisely to the genre she's improvising to, which bears proof that she's done her homework in accurately nailing the subtleties of specific genres on her instrument with a seemingly respect and keen knowledge of past musical artists. It's a given that her musical future will be bright and successful, and that she will continue to bring joy to the many audiences ahead as this live album testifies to!
Vanessa Collier in concert, Friday, March 24, 8-10 p.m. at the Sunshine Brooks Theater in Oceanside.