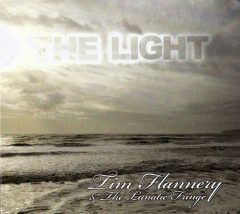 Tim Flannery is a true 21s-century Renaissance Man, a Kentucky native who was a fan favorite as an athlete on the Padres, continuing in baseball as a coach and manager, then a TV analyst. During more than 30 years in these careers, he was also active making music and writing songs, and he has released 14 albums of music with a spotlight on his countrified Americana originals. Oh, and he is an active philanthropist, founding the Love Harder Project in 2014, supporting anti-bullying and anti-violence programs.
His newest, The Light, features his all-star backing band, the Lunatic Fringe. The 11 tracks include seven Flannery originals, and the Jeff Berkley-produced and recorded project includes Flannery's assured vocals and acoustic guitar, with electric guitars and vocals from Berkley and Doug Pettibone. Also on board are Dennis Caplinger (fiddle, banjo, mandolin), Shawn Rohlf (bass, vocals), Eve Selis on vocals, Sharon Whyte on keys, and drums by Christopher Grant. The set kicks off with "Ashes to Ashes," as Flannery asks the listeners if their searches for the truth and other life lessons haven't shown that "When it is all said and over/ We're just ashes and dust." The message comes across with breathy background harmonies and a dueling lead guitar break by Pettibone and Berkley.
The title song is a lovely ballad about places and people near Flannery's heart, and acoustic guitar figures dominate as he tells about friends' come and going, living a life on the road, and the difference between the shadows and the light. "So the Day Has Come" has some blues-rock DNA and is infused with Flannery's spirituality—the chips are down, so "Believe in hope, believe in love/ Give me the fruits from the spirit above/ Show me kindness compassion and grace/ Teach me how to walk in faith." The band pounds home this lesson, a gospel vibe delivered with overdriven guitars and B3 organ. The first cover is Tom Petty's "Walls," and it is delivered with flair recalling Petty's Heartbreakers band, as Flannery once sings about big hearts and transcendent love.
"Running Out of Tomorrows" is a bluesy Flannery original that features Berkley and Rohlf singing lead on a verse each, and like on several tracks gives the ace guitarists a chance to take turns digging into the fretboards. It is nearly seven minutes long and the disc highlight. Bill Callery's "Hands on the Wheel" gets a nicely done cover, a waltz piece decorated by Caplinger's fiddle work. Late in the program, Flannery is introspective on "Music Box," singing a love song to his wife that is catchy, personal and touching-softly rendered to fingerpicking and harmonies. The program closes with "I Still Believe in You." This one is a duet with Eve Selis, and the bare-bones accompaniment on just picked acoustic guitar makes it a stark standout with resounding vocal blends.
The Light is more great listening from Tim Flannery and his band.