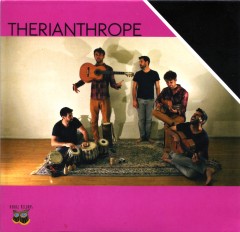 You're hosting a dinner party when someone says, "Hey, why don't you put on some music?" Great idea, but as you head over to your CD player, you realize that you're in a quandary. Among your guests are your brother-in-law, a graduate of the Berklee School of Music in Boston, and a sax player in a pretty hip jazz quartet, and your aunt, who likes music to be something she can tap her foot to.
You run through your choices. You need some really great and interesting music for your brother-in-law, like Mingus or Coltrane, but it also can't give your aunt a headache. There's always that Django Reinhardt compilation. And then there is the old standby for times like this, Miles Davis' Kind of Blue. But hasn't everyone heard these again and again?
But wait. Sitting on top of the player is the new disk by Therianthrope, the guitar/tabla duo of Dusty Brough and Miles Shrewsbery. You turn on the system and slip in the disk. As the strains of "Shapeshift," the first number on the disk, come through your sound system your aunt says, "I like this!" Your brother-in-law smiles approvingly. You're saved.
I'm not saying that Therianthrope is destined to be regarded as a classic like Kind of Blue, but this new disk has a quiet intensity similar to what Davis achieved with his 1959 recording. The intimate interplay between Brough's guitar and Shrewsbery's tablas is intriguing and generates a great deal of excitement.
Descending from the oud, an ancient instrument of the Middle East, the guitar is a natural pairing with the tablas, the distinctive percussion instruments of the Asian subcontinent. The bell-like timbre of the classical guitar can at times sound very similar to the tones produced by the tablas. It's as though these two instruments were made for each other. At times, Shrewsbery provides rhythmic backup to Brough, and at other times Brough does the same for Shrewsbery to feature the tablas, as he does in their interpretation of the traditional tune "Dilli."
These two musicians are serious, but there is a strong sense of enjoyment in what they are doing. At times the music brims with delight. Some of their compositions, such as the "Canary in a Bitcoin Mine," seem to float in and glide out, with the guitar or tablas providing spare and meditative ostinatos. Fun and playfulness reach a peak with the duo's "The Tiny Piano Episode." In under one and a half minutes Shrewsbery and Brough give their listeners a stick-in-your-ear-no-matter-what riff that I didn't think possible on the toy piano.
Except for Dizzy Gillespie's "A Night in Tunisia," all the compositions are by Therianthrope. You don't need to wait for a dinner party to put this disk in your player. It's good for just about any time of day. You'll probably enjoy Therianthrope. Your aunt and brother-in-law probably will, too.