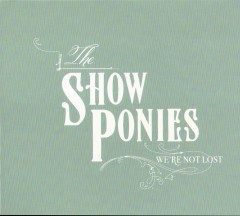 For those that like their bluegrass with plenty of energy and flair, the Show Ponies are a good option, but they are more than that. The LA band has infused their independent sound with a broad range of acoustic flavors–including barn-burning jamboree of hill music, quirky country shuffles, and softly focused folk song with rich harmonies. Their most recent full-length CD, We're Not Lost, has plenty of each.
The quintet includes Jason Harris (guitar, banjo), Andi Carder (vocals, guitar, banjo), Philip Glenn (fiddle), Clay Chaney (bass, vocals), and Kevin Brown (drums). The sound benefits from lead vocal tradeoffs between Carder and Chaney, as well as a general level of ace musicianship throughout, and the band wrote all 11 songs.
"Baby, I'm In Love With You" is a rousing start, with both singers singing with plenty of gusto and hot fiddle licks, "I just want to take you on along hiatus/ Watch the fireflies and hear the cicadas." After this three-minute gem establishes their speed setting, the title tune sounds almost tame, with Chaney in the vocal chair as a tune about a couple's past good times while facing a life change. Nice harmonies on the choruses blend with a smart sound that features Glenn prominently. A trip to the country for a "Whiskey and Wine" is one of those battle of the sexes tunes as the two singers spar with clever lines to ultimately conclude, "I hate your guts but you've got soul." For "Pieces of the Past" the Ponies are even further away from coloring inside any bluegrass lines with a finger-picked folk ballad, given heft by a good arrangement using piano and fiddle.
Back on bluegrass Terra Firma, "Spring Has Sprung" has some traditional fiddle tune pedigree and is a highlight–it has lyrics about young love but would also sound great as a blazing banjo and fiddle instrumental. "Choppin' Wood" again plays both vocalists off one another about backwoods romance, but this time in a bluegrass stomper, "Could I be the one who's in your dreams? Could I be the one who you redeem?" Things slow down for the unusual ballad, "The River" with Carder taking the vocal about starting a new life with a new attitude, washing herself in the river of title, "Life begins today." A fiddle drone against a drum hook gives it a stark and haunting feel, just right for the lyrics.
Most of the songs here last around three minutes, but the five-and-a-half-minute magnum opus of this set is the closer, "I Regress." An interesting mixture of spiritual and country balladry, this one starts small and ends huge, a confessional by partners about our tendency to fall back into the same bad habits and mistakes in life and in marriage. Again the piano adds gravitas to the build as it slows to build power, becoming a prayer for restoration to the Lord for the last several verses. Nice job here, and on the other tracks as well; the Show Ponies flex their chops with some very satisfying music.
The Show Ponies are in town this month for a performance at AMSD Concerts on March 4. For further information, go to: amsdconcerts.com/March.html