THE MIDNIGHT PINE: Awake Now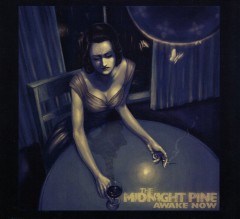 Has it really been 26 years since the Cowboy Junkies released The Trinity Session? For those unfamiliar with the minor-classic album, it was recorded in a church using a single microphone, managing an eerie, distant-yet-immediate sound with empty spaces and echo effects that made singer Margo Timmins and the sparse instruments sound somehow otherworldly.
OB's Alfred Howard (The Heavy Guilt, The Black Sands) has built the Midnight Pine around young, talented singer Shelbi Bennett. Awake Now is the auspicious debut that gives 11 original tunes an infusion of Trinity Session soul, while showcasing Bennett on a batch of ear-catching tunes, captured by producer Tim Felton with an unhurried, drummerless sound that is ghostly, ethereal, and three-dimensional. A loose aggregate of cohorts that includes Sean Martin and Josh Rice from the Guilt on guitars and keyboards, and Felton (Black Sands) playing and turning knobs, are among the musicians on board. Most of the writing is done by Rice, with Howard writing or co-writing all the lyrics.
"Stolen Wind" introduces Bennett, who has a hell of a voice: range, power, and emotion combine with an ability to work in between the beats. The acoustic guitars, soft keyboard drifts, and her rich singing nailing the notes with ringing clarity make the catchy "Away" memorable. No lyrics in the artwork or on the web, but the songs here all have stories to tell; on "Siren," a lovely folk song by Bennett and Howard, Bennett tells "I've a memory I cherish and another I'll inherit/ Of an old oak stretched forever," as she sings about "her time coming soon." The atmospheric arrangement clicks again on "Good Night," a slow, resounding ballad that sticks with the listener.
The story is familiar on "Jesus on the AM Station"; Bennett is driving and spinning the dial trying to find a song she can sing along with, and instead gets talk-show hosts and Southern preachers. The listener is transported to stretches of Highway 5 where this is a fact of life. Another song with a catchy pop hook is "Wave Goodbye," which may be the most heavily arranged tune here and the closest thing to one with drums. A quibble, or perhaps a downside of the recording philosophy that otherwise works very well, is that the absence of drums and Howard's light percussion leaves the endings of many of the songs on the disc sounding awkward, as if the band just stops rather than the song being over.
On a disc without rockers, "Best Place" comes closest and scores points as hand claps and a solid, chugging acoustic guitar drive a bluesy memoir with Bennett singing "You get love, take it when you can/ When you can't, it's a barren land/ So we walk till we find what we need." This standout track, like many others here, features dobro slide accents and ace keyboard work.
On Awake Now, the star is Shelbi Bennett, but Alfred Howard, Tim Felton, Josh Rice, and others have put together a disc of highly imaginative and interesting alternative music.