BILL DEMPSEY: Take Me Back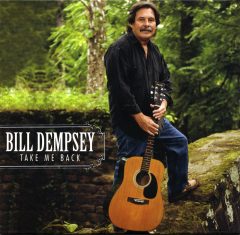 A music man his entire life, who studied classical music and jazz and whose performance career includes playing the trombone and being an ungonged contestant on "The Gong Show," Bill Dempsey is nowadays most noted for his banjo picking, guitar strumming, and singing. A disk he made several years ago is aimed mostly at children, offering well-known old-time tunes for Mitch Miller-type sing-alongs. Another disk of sea shanties can put you right on the deck of a tall ship as it rolls over the waves.
With his latest CD, Take Me Back, Dempsey offers his listeners a package of 17 country, folk, and old-time gems. Like the music that flowed from the jukeboxes of country honkytonks generations ago, the music is as honest as a hard earned dollar bill. If you like straightforward singing and picking, this disk deserves a spot in your CD collection.
If genetic engineers were to work for years to produce the ideal country singer, they would make a man like Dempsey. There is nothing fancy about his natural, resonant baritone, but you can almost hear the crackle of the campfire and the chorus of crickets in the background as he aptly interprets the songs on Take Me Back. His phrasing is easy, unaffected by any rock or jazz influence and often leaves open spaces for the songs to carry the listener along. He is a true pleasure to listen to.
In the explosion of popular folk music that washed over this country, and the rest of the world for that matter, since the sixties, there are songs that, while they cannot be considered hits or standards, serve as a strong backbone of the genre. These are the ones that eschew cliché and evoke strong feelings and paint pictures. Dempsey opens Take Me Back with five of these chestnuts: Steve Goodman's (penned by Pat Garvey) "The Lovin' of the Game," "Goin' Away" by Utah Phillips, "Killing the Blues" by Roy Salley, "Early" by Greg Brown, and Bill Stains' "The Roseville Fair." These songs should be heard more often. I thank him for including these outstanding numbers on the disk.
The rest of the disk is devoted to traditional tunes such as "Old Joe Clark," "Sail Away Ladies," and the "Wabash Cannonball." Dempsey treats these with the approach they've received for generations: simply strumming a dreadnought guitar or accompanying with clawhammer banjo. The recording is crisp and clear, more than adequately capturing these instruments. They come across with presence and retain their natural sounds and timbres.
Listening to Take Me Back, it's apparent that Dempsey loves these old songs and loves to sing them. And this latest offering of his gives us listeners a chance to fall in love with them as well.