THE LOONS: Inside Out Your Mind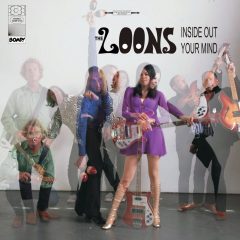 First things first: how can you not love rock 'n' roll? It's THE most beautiful form of expression, and as a social and spiritual unifier, it cannot be beat. It's also one of the more significant ways through which we culturally define our tribe: kindred souls called together by the same clash of drums and wires, with the express purpose of dancing our cares into oblivion.
From Little Richard to the MC5 (and the scores before and since), rock 'n' roll is a clarion call to and from the spirit. And synonymous with the love of a visceral soundscape is the personal desire to celebrate artists who pick up a musical instrument and sound like they're on a life or death mission to get an idea or a feeling across in their work. As much as I value innovation, intelligence, and craft in all forms of art, at the very top of the list is unbridled passion — for that is what rock 'n' roll is truly all about.
For some, rock 'n' roll serves as a living manifesto, and nowhere is that more apparent than with our homegrown favorites, the Loons, from La Mesa, California. Hot off the presses from BOMP! Records is their fourth long-player, Inside Out Your Mind, by one of the premier garage/psyche outfits on the planet. Gurgling and fuzz-toned, with a non-stop lust for life, the Loons celebrate some of the finer aspects of '60s rock culture, with a dazzling array of precious Nuggets, all the while offering up a synthesis all their own.
The Loons are led by vocalist/lyricist Mike Stax, as much an expert on 1960s culture as anyone around, as documented across the pages of his superb publication Ugly Things. The Loons are a modern-day assimilation of the great bands that UT champions: early Rolling Stones (pre-Mick Taylor), Pretty Things, Kinks, beat groups from every continent, the 13th Floor Elevators, Love, et al. As a vocalist, Stax projects an Arthur Lee-like urgency, while maintaining the tried-and-true stage mannerisms of Jagger, Relf, and Phil May. The slash-and-burn electric guitars by Chris Marsteller and Marc Schroeder bob and weave in perfect symmetry; and anchoring the Loons' sound to sublime perfection are the relentless bass riffs supplied by Stax's wife Anja, whose fingers dance in perfect lockstep with drummer Mike Kamoo. As the band's engineer and producer, Kamoo may very well be the band's unassuming secret weapon. His drum fills are precise and hypnotically wild, sounding like the band could careen off the tracks at any given moment. And yet he never misses a beat.

Inside Out Your Mind offers up a collection of songs that are more "pro-fun" than profound, preferring to make a statement through a series of sonic exclamation points. The notable exceptions are with the closing numbers on both sides of this disc (yes! they still press their slabs to vinyl): "Silence," an atypical moody acoustic meditation ("Only in silence can real truth be found…") is starkly beautiful and the ultimate track, "As the Raven Flies" is a bit on the prog side (is that a Mellotron I hear?), with different movements giving it an epic grandeur.
In the classic British tradition of releasing non-LP singles concurrent with an LP, there is also a 7-inch disc available: 'Miss Clara Regrets,' about Clara Bow, the It Girl of 1927. The sleeve of the single is beautiful and this outtake from Inside Out Your Mind is coupled with a saucy rendition of the Pretty Things stomper "Alexander."
Exciting in concert and visceral as a freight train, the Loons play frequently in town — and they are guaranteed to get your pulse a-racing. Rock on.