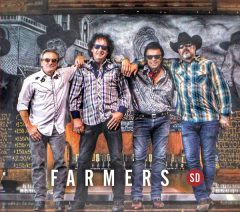 Not the biggest act to come out of San Diego, nor the longest in service, the Farmers are nevertheless local music royalty. An earlier incarnation, the Beat Farmers, helped establish San Diego as a regional center of original music in the mid-1980s–showed the country (and record label execs) that there was a fertile music scene here in America's Finest City.
Three decades after helping make it possible for other local bands to follow their example and get a record deal and earn a living off their music without having to leave San Diego for LA, founding Farmer Jerry Raney and his mates have issued Farmers SD. This is their third album since Raney and fellow founding Beat Farmers Buddy Blue and Rolle Love (along with former Penetrators and Crawdaddies drummer Joel Kmak) regrouped in 2004 under another, unprintable band name before changing to the current the Farmers a year later.
Farmers SD is their second release since the untimely death of songwriter, guitarist, and singer Blue (Bernard Seigal) in 2006, and the subsequent departure of Love (replaced by former Penetrators bassist Chris Sullivan). Farmers SD is a continuation of 2009's Fulmination in both lineup and approach: Gone with the passing of Blue is the dual-guitar threat of the Beat Farmers and the first iteration of the Farmers. Kmak, Sullivan, and co-lead singer Corbin Turner flesh out the band with Raney, who holds down lead guitar and vocals.
As on Fulmination, the Farmers are less cowpoke here than they were with Blue in the fold. Raney has always been a more straight-ahead rocker, and while he willingly let Montana and Blue pull him into country, blues, and R&B veins over the years, at heart he's who he was when fronting Shine or the Shames in the 1970s: a musical descendant of 1960s rock bands like the Kinks, the Stones, and the James Gang.
A revisited "Maureen" (written by the Farage Brothers for their 1980s band, DFX2, and a staple of the Beat Farmers' set list) offers a nice touchstone between past and present. Interestingly, the new version doesn't vary much from the live one found on the Beat Farmers' 1990 Loud and Plowed and …. LIVE!, which is to say it's very good: Raney has always been an underrated guitarist, more tasteful than flashy, but having honed a superb technique that's often overlooked in the energetic aggression of his playing.
As with Fulmination, Farmers SD is hurt a bit by the lack of a killer song. There's nothing quite as good as Raney's own "Lost in My Car" or "Sunbeam Lake" (both on 2005's Loaded). "The List" (co-written by the entire band) is the best track here–it has one of the most interesting bridges yet found in a Farmers song. Another band group effort, "Let Time Slip Away," is pleasant enough, but not particularly memorable, as is the opening track, Raney's "Part One" (although that song has the benefit of a tremendous guitar riff).
The covers are a mixed bag. Eric Burdon's "I'm Crying" never really seems to find its footing, but a likable hodge-podge of old rock 'n' roll and blues tracks titled "Jerome Medley" runs through covers of Bo Diddley, Billy Boy Arnold, the Leroi Brothers, and Captain Beefheart with energy and a deep sense of fun.
The album closes with the Farmers going into full-on bar band mode: A rollicking take on the 1965 novelty nugget "Wooly Bully" and a vamp off the Coasters' 1956 doo-wop classic, "Down in Mexico." Turner in particular delivers a Belushi-esque turn on "Down in Mexico." Not possessed of the most polished voice, he nevertheless wraps every performance in huge dollops of charisma and enthusiasm that prove difficult to resist –particularly when Kmak's relentless drumming is driving everything along at breakneck speed.
And that is who the Farmers are: a fun, talented bar band who can play rock 'n' roll with skill and panache–musicians who never set out to be famous, who just wanted to play live music with their friends, and have kept it going year after year.