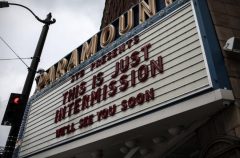 We are coming up on a full year of dealing with Covid. Bands have been unable to perform live. Venues are shuttered. Agents, publicists, side players, music shops, instrument repair shops, music newspapers (including the Troubadour!) suffer, as do all those engaged in the music world for a livelihood. Here in San Diego's bluegrass world both the San Diego Bluegrass Society (SDBS) and the North County Bluegrass and Folk Club (NCBFC) have had to shutter their regular Tuesday events. Carey Driscoll's AMSD concerts are shuttered. Open mics are closed. Many local venues we count on are closed. Sadly, some may be gone for good. At a high level, the long-running Prairie Home Companion radio show, hosted by successor Chris Thile, has been cancelled.
Struggling to Survive. Musicians and others in our industry struggle to survive. Online Zoom lessons and ticketed online concerts are happening. Recordings and promotions seek to help fill the void. While these help, and I encourage all to partake, there is no substitute for live music and live jamming.
Especially in bluegrass music, that live interaction is critical. Online activities have value but don't help our live music venues. Some of the large music organizations have programs to provide financial assistance to struggling musicians and music industry workers. This includes the International Bluegrass Music Association (IBMA) and its IBMA Trust Fund, which provides loans and grants to those in need. We are thankful for these efforts. But, the return of safe live performance is the key, not only to restoring our musical mental health but also to restoring the economic vitality the music world depends on.
So, when can we expect "back to normal" for the bluegrass music world? Nobody can identify an exact date, but we are starting to think about some re-openings. Safety will come first, especially, as so many in the bluegrass demographic are seniors in the high-risk category. Likely, we will see gradual re-openings of some jams and venues with masks required and social distancing, but at least that's a start. Summergrass is scheduled to return this August, depending on how the situation evolves.
As we go to press, Covid infections and hospitalizations in San Diego are on the decline. Vaccinations are on the rise. We can and will see the end of these dark times, and bluegrass music will be back in all its wonderful forms to restore our souls.