STEPH JOHNSON TRIO: Nature Girl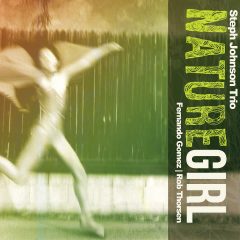 "There's nobody that makes me feel the way you do… you're like a dream come true…" You can't be earnest about love and coy about it at the same time, can you? It's a hell of a trick to wear your heart on your sleeve and simultaneously "be cool." I'd venture that it's nearly impossible, particularly in the world of post-modern vocal jazz where cool irony oftentimes leads to a feeling of being left out in the cold — producing an emotional freeze-out instead of a connection with your audience.
Which exemplifies why I'm both impressed and enchanted by the current states of mind provoked by San Diego chanteuse Steph Johnson on her latest offering, Nature Girl. Johnson is indeed a natural performer with a gift for warmly translating her emotions into heartfelt communiqués, emphasizing passionate candor and a depth of feeling that is rare. Her delivery is cool but with a fiery demeanor — sonically laid-back yet emotionally in your face.
Johnson has been steadily building an audience since the release of her debut EP Genesee Avenue (2008) and it's long-playing follow up Mysterious Feminine (2010). Last year she made an unexpected left-turn by opting out of the soul-oriented sound of her first two recordings and plunging head long into the world of jazz. The musical makeover suits her perfectly and her current trio (with Fernando Gomez on drums and Rob Thorsen on upright bass) is a lean, clean smoking machine that alternates between the funk grooves of Johnson's originals and floating away on a cloud of suspended chords on a number of jazz standards. She proves to be a rather tasty rhythm guitarist on her own compositions but opts for much more space on the passing chord sequences of such classics as "When Sunny Gets Blue" or "The Man I Love."
But the true hook of Nature Girl is that in spite of the trio's silky sound there is a deep longing simmering just below the surface sheen. Romantic fantasies of seduction and satisfaction play out and then a song like "You" shows up with its undercurrent of unrequited love suggesting that there's more than just a little bit of trouble here in paradise. "Compromised" soars in the most unexpected places and veers between the subtle differences of self-abuse and somehow sorting it all out. Sunny angst, as best expressed perhaps in the perceived shortcomings of missing out on the "Big Life." But as her ascent continues over the next few seasons I have a hunch that Johnson will have considerably less to feel blue about and that the tone of her material will shift dramatically to reflect a world view of what happens to your heart once all your wildest dreams have come true.
Three CD releases have been planned in different locations around town:
Sunday, March 10: Solace, 25 East E St., Encinitas, 2pm.
Thursday, March 14, Cafe Sabina, 22400 Tijuana, Baja, 8pm.
Saturday, March 16: Sunset Temple, 3911 Kansas St., 8m.