Since its inception in 2017, Southern Pacific Sessions has brought some of the finest musicians spanning the folk diaspora to perform in San Diego. Fans of Americana, old-time, blues, bluegrass, and beyond have rejoiced that the programming has brought internationally acclaimed artists from around the world to perform in an intimate acoustic environment. So, after an 18-plus month-long hiatus, Southern Pacific Sessions is making a triumphant return on November 13th at Verbatim Books in North Park, hosting one of the most masterful duos of American folk music: Caleb Klauder and Reeb Willms.
Originally hailing from Washington state, this duo's impact on the old-time, classic country, and bluegrass music they play has been international. It's no surprise they've performed at many of the most prominent festivals across the United States and Europe, including Pickathon, Black Pot Festival, Old Tone Roots Music Festival, Tønder Festival, and more. After many years of touring, the duo will finally be making their debut in San Diego.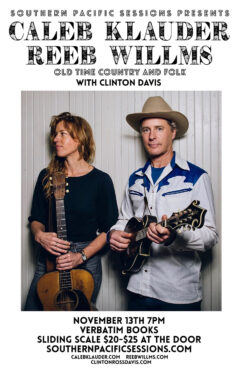 Their simpatico as performers is spellbinding as they weave through their extensive repertoire, a mix of classic tunes and equally timeless original songs. Reeb Willms' guitar is the heartbeat of the performance, while Caleb Klauder seamlessly switches between mandolin, fiddle, and guitar. Individually, their voices are packed with all the rawness, honesty, and beauty you might expect from two people steeped in this music. Together, they harmonize in a way that is capable of amplifying the joy and heartbreak of the human condition all at once. Beyond their musical mastery, they have an incredible ability to always put the song first, whether it be a foot-stompin' fiddle tune or a grim murder ballad.
The two also happen to make up 50 percent of Foghorn String Band, which is akin to being in the present-day folk music royal family. The Foghorn String Band are titans of American roots music and have set a high standard for the many artists they've inspired. If Foghorn sounds familiar, you might've caught a previous iteration of the band, the Foghorn Trio, at the San Diego Folk Festival in 2010. But don't make the mistake of assuming that just because they're missing their bandmates, Caleb Klauder and Reeb Willms will leave you missing anything from their performance. They capture all the same jubilant energy that makes it difficult to watch without wanting to jump up and dance along. Feel free to whet your appetite with this live performance from Caleb and Reeb from early 2020.
https://www.youtube.com/watch?v=-UeJ7ZfGFgA
Also performing will be Southern Pacific Sessions' founder and San Diego's very own old-time treasure, Clinton Ross Davis. If you aren't yet familiar with his seemingly boundless talent, check out his Troubadour cover story here to get an idea.
The concert takes place from 7-9:30pm at Verbatim Books in the heart of North Park. Get there early, however, because tickets will only be available at the door on a sliding scale of $20-25. It's also all ages, so bring your family and friends down for a fantastic night of music.
Caleb & Reeb, Verbatim Books, 3793 30th St., Saturday, November 13, 7pm.