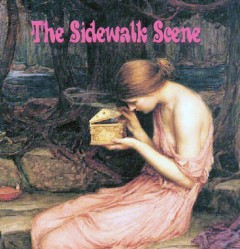 You know it's going to be a cool listen just from the credits. Really all you need to know is in this band's line up: Mark Zadarnowski, Ray Brandes, Eric Bacher, Joe Piper, Paul Carsola — that's former members of The Crawdaddy's, Tell Tale Hearts, The Shambles etc., with production from David Fleminger and a co-writing credit for Gary Heffern of the Penetrators. How could it not be good?
The main musical reference point here? The Byrds. There is plenty of twelve string chime on the four tracks here, with Piper contributing a track called "Gene Clark," a song by the actual Gene Clark, "So You Say You Lost Your Baby," and a traditional song perhaps known for its Byrds cover version, "I Know My Rider." The Clark and Byrds tracks compare favorably with the original versions, ramping up the tempo, increasing the 12-string in the mix and, most important, adding a garage edge to the songs with terrific harmonica from Brandes.
The band penned tunes are just as good, opener "The Last Time It Rained," written by Piper, Heffern, and Brandes, is a moody mid tempo folk rock number, heavy on the jangle via Pipers sterling 12-string fretwork. Meanwhile, "Gene Clark" uses the same elements in a well-worded doomed romance tale of a young man who doesn't measure up to, well, Gene Clark. Love it.
Bottom line, if you're a fan of any of the musicians listed above — and you should be — then this EP is an essential addition to your music collection and hopefully just a taster for a full-length album ahead.
www.cdbaby.com/cd/thesidewalkscene