The San Diego Blues Festival is back live for 2021, after last year's edition was held online due to COVID-19. This year's festival is set for Saturday, Sept. 11 at the Embarcadero, beginning at 9 a.m.
Promoter Michael Kinsman has lined up a typically outstanding roster, with the well-known Rick Estrin & the Nightcats leading into the headlining Larkin Poe (back from last year). Local favorites, the Fremonts, are featured as is local Native American bluesman Tracy Lee Nelson. Also appearing are Bay Area musicians Aki Kumar (who plays harmonica and blends blues with music from the Indian subcontinent) and Tia Carroll (a powerhouse blues and R&B singer), as well as New Orleans-based R&B and rock singer Nikki Hill.
But the act that San Diego blues fans might be talking about for years to come – about how they saw his first-ever—San Diego appearance way back when—is Christone "Kingfish" Ingram.
Just 22 years old, Ingram already has two albums out on Alligator Records (the leading blues label in the nation) – and is the talk of the blues world. For starters, he is a music marketer's dream: A young black kid who grew up in Clarksdale, Miss., just a few miles from the legendary crossroads where Robert Johnson is said to have traded his soul to the devil. Add to that the undeniable talent: His guitar playing is drawing comparisons to blues and rock greats, his singing is surprisingly confident and mature; and he co-writes most of his own material.
It's probably predictable given all the above that headlines both in blues magazines and local newspapers increasingly refer to him as the "future of the blues."
If the pressure is weighing on him, or the praise is swelling his head, you'd never know it by talking to him.
In a telephone interview with the San Diego Troubadour, Ingram revealed himself to be both self-assured beyond his years and remarkably open and enthusiastic—all while remaining charmingly down to earth.
Asked if he has been surprised at the national success surrounding his albums and tours, he responded, "Most definitely! I kind of thought that everything like this would come a little later, after some years of working on my local scene. But people helped me along the way, and it happened sooner rather than later."
Growing up in Clarksdale, Ingram was exposed to the blues while still a toddler. He started out on drums, then switched to bass before settling on guitar. At age 11, he had his first paying gig at a local club. While still in high school, he had amassed a sizeable following on YouTube – which led to the TV program "Luke Cage" including two of his songs when he was just 19. A year later, Alligator Records released his first album, Kingfish.
Ingram said he's never had to hold down a non-music job on the side to this point. His parents had enrolled him in music lessons at an early age, and he was able to leverage that into paying gigs while still in junior high school.
"It was always music with me! For me, during high school, I would do home work, and then go play a 9 p.m. to 12 show at a local club on a school night. Being in a musical city, where I come from, the Delta Blues Museum had kids graduate from their class and then go play around town. The expectation was that if you took the class, you'd get gigs in the local clubs."
Ingram said the biggest difference in his daily routine from when he was living in Clarksdale and gigging around town to today's reality as a national touring act is the demands on his time, and having to manage those. He said the amount of media requests he gets has grown tremendously.
"Most of the time before, I was used to doing press interviews when I had down time at home. Now, when we're going to a place, I might have three or four interviews all lined up. I have to find time to sleep in between calls. That's the most surprising thing for sure."
Spending months on tour also changes how he works on new material. "If I have time in the hotel before a show, I'll be doing a Zoom call with my producer and get it done like that. Due to the pandemic, I got used to that, and now I don't mind it at all."
But despite the challenges, Ingram sounded legitimately excited about the benefits of traveling from town to town playing shows.
"It may sound clichéd, but just getting out and seeing all the different cultures, and meeting different people. I take advantage of that while I'm on the road. I try different foods I haven't tried before, find landmarks in areas where we're going to see that I might be interested in."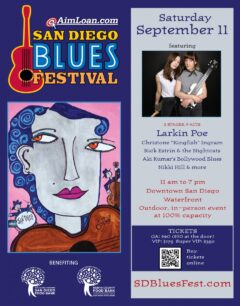 In addition to being a singer and guitarist, of course, being the person with his name on the albums and concert bookings means that Ingram is now also a businessman. And like all business owners, he has to hire people.
Ingram was asked what he looks for when filling an opening in his band. "Someone who is diverse. Respectable. Very dependable. Musically diverse – doesn't mind playing out of the norm. The bands that are fun to be in are the ones that don't limit you."
As a musician who has chosen the blues as his idiom, Ingram is well aware that many young people today don't think the blues is cool – that it's old-people's music. But clearly he's thought about this, because he said he has an answer for his friends and acquaintances his age who question his choice of the blues.
"I would give them a great history lesson and tell them about how the blues is more relevant today than at any time. Just because you don't hear the music doesn't mean blues isn't cool. I would give them different examples in the modern world of people who use blues to try to reach younger audiences. I saw a video the other day of a jazz quartet and how they were singing was very similar to rap. It just shows that stuff has been around a lot longer than people realize."
Get tickets or find more information on the San Diego Blues Festival at https://www.sdbluesfest.com.