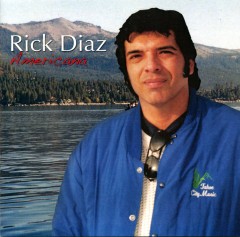 Rick Diaz recorded Americana some time back, a five-track EP of original songs that the Lake Tahoe musician recorded in LA and Spragueland studios in Encinitas with some good studio musicians (Tripp and Peter Sprague, Duncan Moore, and many others). Diaz' music here is slick pop; it's a stretch to call it "Americana," since much of it is closer to overproduced adult contemporary lounge music.
The disc opens with "Dreams of Gold," a smooth and catchy bit of autobiography about Diaz' childhood home, where the "trees touch the sky." His bio cites experience as a Vegas and Tahoe singer; his voice fits in this mold — an edgeless pop instrument perfectly on key, yet lacking the ability to stand out. The best track is "The Lady of the Lake," with nicely arranged strings and acoustic guitar fills as Diaz sings the praises of scenic Tahoe. Again, there is a bit of a hook, and the tune clicks. "We're All Americans" doesn't. It is way overproduced, jamming strings, horns, backup singers, and awkward lyrics together as it attempts to force an "anthem" and ends up with a clumsy song instead. Diaz does better on "Just You and Me," pushing some spirituality buttons to weave a lighter, upbeat tale about everyone getting along. His lyrics still clunk sometimes: "I need you and you need me/ Like a robin needs its tree," and there are a lot of instruments and voices competing, but it doesn't fall flat.
Americana is uneven, and the title a bit misleading, but it has its moments.