REBECCA JADE: A Shade of Jade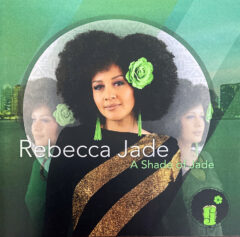 Rebecca Jade is the most powerful and versatile vocalist I have heard in years and her latest album doesn't disappoint. This time out, on A Shade of Jade, she is completely involved in every aspect of the creative process from start to finish—meaning that she wrote or co-wrote all of the tunes (a first for her) and also acted as the executive producer (another big step) although she does share co-producer credits with Carnell Harrell (who plays keyboards on almost every tune).
Jade tailored this album toward the neo-soul smooth jazz market, and as such the production values on these sessions are exceedingly polished. If you dig the work of Sade or Anita Baker, for instance, A Shade of Jade is guaranteed to be ear candy.
Jade's voice is an intoxicating instrument and an addictive one at that. She's been a backup singer for years and, as a consequence, all of the backing vocal tracks on the album (often layered to a scintillating degree) sound terrific and seamless as on "Please Come Home."
Smooth jazz sax hero Dave Koz sits in on "My Reason," channeling his inner Kenny G for a tune that's already destined for the charts. Several months back Jade released "What's It Gonna Be?" as a video with stellar visuals underpinning the empowerment message of women in sports (she went to college on a full ride basketball scholarship.) The tune works equally well without the images, although I highly recommend checking out the YouTube version—it's a great way to dive into an afternoon of Jade videos.
"Drift Away" is another sterling example of modern production values, especially in the relationship between the lead and backing vocals. If she ends up taking this out on the road, I can only imagine that auditions for her backing singers are going to be taxing and brutal.
In addition to her other skills, Jade knows how to sequence an album. She begins with the pinpoint jab of "Show Me" (also another killer video) and wraps up with the knockout punch of "Insane," which toggles between a hip hop groove and a pop jazz feel (think Van Morrison's "Moondance" for a reference.)
One might imagine that upon arriving at the proverbial "pearly gates," there is the discovery that all of the angels sound like Ms. Jade—if so, that's certainly a compelling reason for living a sin-free life.
All kidding aside, Rebecca Jade is the complete package: power, soul, and finesse.