BLUE LARGO: Got to Believe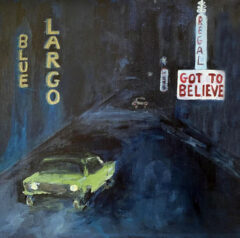 Blue Largo's Got to Believe is the long-awaited follow up to 2018's Before the Devil Steals Your Soul. The new disc includes 10 original songs from the pen of guitarist Eric Lieberman and one fresh take on a legendary classic. All 11 tracks reflect a deep and personal perspective on some of life's most defining moments. The record speaks to love, loss, and reconciliation but the real, underlying theme here seems to be one of encouragement and optimism. In a world where we could all use a glimmer of hope, Blue Largo says you just "got to believe." The sound is definitely beefier, with two horns, a Hammond, and choral arrangements, but this collaboration of artists and friends continue to demonstrate their ability to play almost any musical style or genre…and have one hell of a time doing it.
The opening track, "A World Without Soul," is a call for action. Get rid of your tech gadgets and take some time to enjoy the artistry and beauty that surrounds you. This particular track highlights the rollicking piano of Taryn "T-Bird" Donath and really sets the tempo for the entire album. The title track, "Got to Believe," is a statement of fact…on the downbeat. Whatever the world throws at you, you have the ability to deal with it and come back even stronger. Eddie Croft and that rich, tenor sax just kills.
"Soul Meeting" is a love song that spans this life and possibly, the next. Vocalist Alicia Aragon, backed by the angelic Ajuzie sisters, take you to church. The weeping Hammond of Jody Bagley puts you squarely in the front pew. Simply put, there are no heartbeats more important than those beating inside the ones you love. The song "What We Gotta Do" is a fast-paced romp through every juke joint and barrelhouse this side of Memphis. Between the Bagley and Donath exchange on keys and the locomotive horn section of David Castel de Oro and Eddie Croft, this band can…and does rock.
Guitarist Scot Smart guests on the reggae-influenced "Disciple of Soul." The song was inspired, according to Lieberman, by Little Steven Van Zandt, who's been an influence since his teens. There is only one cover song on this album and that's the track "Don't Let Me Be Misunderstood." You have to feel that both Nina Simone and the Animals would get a kick out of this version. And yes, that is a baritone guitar. "Soldier in the Army of Love" comes right out of today's headlines. Blue Largo dedicated it to the people of Ukraine, but it's really a shout out to the world; the clock is ticking.
"Ronnie" is a tribute to the late guitarist Ronnie Lane, who was a mentor and lifelong friend of keyboardist Taryn Donath. Yes, it's the story of loss but you definitely get a sense of joy coming through Donath's fingertips. It's a reminder that friends never really leave you. The straight-forward "Gospel Music" is motivational and inspirational 'cause it makes you "feel so good." Get on your feet; put your hands in the air and shout… Hallelujah!
The nostalgic "Rear View Mirror" is a look back at the road we've traveled and just how far we've come. No matter what life has in store, we face it together. The full chorus and the Hammond organ…and the angels sing! The last track on the album was a real surprise and Lieberman titled it "Santa Fe Bound." It's a straight-up country tribute to old friends. No trucks or dogs but it does feature the stellar pedal steel of David Berzansky.
You can't praise the rhythm section of this band enough. From big band charts and gospel praise to country music and reggae, drummer Marcus Bashore and bassist Mike Jones are masterful in their chosen crafts. But then, the Southern California dance community has known Blue Largo for a very long time.
Got to Believe drops this month and you can see the band live at Humphrey's Backstage Live on October 20th. Bring your dancing shoes.