QUEL BORDEL!: Qui Ne Chante Pas…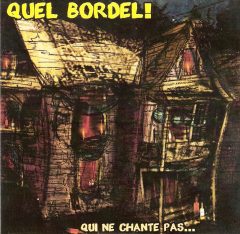 Local fans of gypsy punk music are likely already familiar with Quel Bordel!, if their gig schedule is any indication. The quintet plays music not unlike other gypsy-inspired groups like Gogol Bordello, blended with the aggression of go-like-hell Celtic punk bands Flogging Molly and Dropkick Murphys. The ingredients are there: surging guitars, exotic violin, pounding drums and percussion, with lots rousing choruses and of shouts of "hey!" and "la!" The twist on their debut EP Qui Ne Chante Pas… is that the four originals are all sung in French. No worries, since this is a disc about energy, not imagery; the lyrics are on the web for those that want them.
The opener is the best track, "La La," which draws from gypsy flamenco and klezmer roots, with a memorable minor-mode lick that builds into an eventual frenzy creating the vibe of a gypsy festival-one with a group of hardcore folk musicians and a mob of raucous singers raising the roof. "Dans Mes Reves" backs off the energy a bit, but before it ends, singer Jake Skolnick is yelling his lungs out with as much gusto as the front man of Dropkick Murphys; the band isn't into subtlety. Ditto for "Aller En Soirées," in spades, as it morphs from a quirky mid-tempo violin and banjo figure for a tame two minutes before it becomes a screaming call-and-response anthem. Though this music doesn't vary enough from track to track to have legs for more than a short EP, Quel Bordel! do what they do very well.