PETER SPRAGUE: Ocean in Your Eyes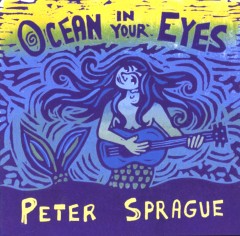 Whether it has been with his Dance of the Universe, or Blurring the Edges, or Road Work Ahead, or as a solo performer, Peter Sprague has consistently produced remarkable music. As a composer, he has written music that can be both challenging and accessible. As a guitarist, his playing has always been consistently fresh and inventive. He is equally at home covering Beatles tunes or performing bebop standards, and everyone knows his penchant for Brazilian music. I've even heard him cover Van Morrison's "Brown-Eyed Girl" (and do a great job of it, too!).
And throughout his career Sprague has given us outstanding recordings. His latest release, Ocean in Your Eyes, is no different. Featuring singers, singers, and more singers, the disk had me humming along in no time.
The formula for this recording was pretty simple. Sprague culled some of his tunes and instrumentals from the past 30 years, and added lyrics. He wrote some lyrics himself, with the words for a few of the tunes being provided by other writers. This is nothing new; coming up with lyrics for instrumental tunes is a jazz tradition that goes back decades, and it's called vocalese. Lambert, Hendricks, and Ross made quite a stir with their spirited vocalese takes on jazz standards in the early sixties, and the Manhattan Transfer, with a smoother styling, continued the practice in the seventies and onward. A good example of vocalese is the Manhattan Transfer's version of "Birdland."
Sprague enlisted Lisa Hightower, Leonard Patton, and Kevyn Lettau, all singers with whom he has been associated throughout his career, to sing these new/old tunes. I've enjoyed hearing these singers for decades. Hearing all of them on a single CD, however, I was struck by how distinctly unique each one of them is. They each have a way of adding something a little unexpected and surprising to their dynamics and phrasing.
Adding to all this singing is the vocalese quartet True North, an ensemble that, unfortunately, I've been unfamiliar with. Their jazz vocal harmonies are right on the money. Most of the songs are backed up instrumentally by Sprague, bassist Gunnar Biggs, and drummer Duncan Moore. Needless to say, the rhythm section is solid, solid, solid, and Sprague's solos are inspiring. For a couple tunes Sprague brings in other top-notch musicians whom, regrettably, I just don't have the space to list here.
The songs vary from straight ahead jazz to bossa nova, and the different vocalists add to the variety of this recording. The success of this project can almost make you wonder why these songs went without words for so long. Sprague has always penned great compositions, and turning some of them into songs demonstrates his ability to craft engaging melodies, ones that you wind up humming long after the CD has finished playing.
This is a delightful recording, each tune being an absolute gem. You'll enjoy it. Two thumbs up! Two thumbs up! Two thumbs up!
CD Release Tuesday, June 24, 8pm at the Saville Theatre, City College Campus