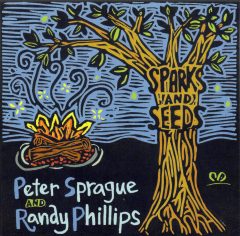 San Diego jazz guitar virtuoso Peter Sprague has always held a deep affinity for singers, in fact, his first self-released record with the band Dance of the Universe Orchestra was called You Make Me Want to Sing and it featured the remarkable Kevyn Lettau.
In the intervening years, Sprague has been a beacon–drawing in the very finest vocalists in Southern California to collaborate with, often gathered to interpret the lyrics of songwriting partner Randy Phillips, who, on "Far Away," a sensitive duet with Sprague, turns out be quite a singer in her own right.
Sparks and Seeds features contributions from five other talented vocalists including one from Allison Adams Tucker, two from Lisa Hightower, three from Leonard Patton, three from new collaborator Emily Elbert, and four from Rebecca Jade.
In his liner notes, Sprague refers to this collection as "folk-music" but I wouldn't approach this expecting Peter, Paul and Mary or early Bob Dylan. It might lack a lot of intricate solos, but the music is incredibly sophisticated and extremely well produced.
Six voices, one guitar and a revolving cast of dynamic session aces make this music soar. Each singer has their own stamp and each voice gets inside your ear.
Tucker completely nails "You Were Never Mine." She has an amazing gift of clarity that allows each syllable to be understood and perhaps the most subtle mastery of vibrato of the bunch.
Phillips didn't just write the lyrics to all 14 tunes, she also does a superb job on "Far Away," emoting the equestrian vibes with a wistful soprano.
Hightower handles the exotic atmosphere of "Whisper of 4 a.m." with aplomb, but her performance on "Rain" brings me to tears almost every time, which is not easy to do.
Elbert has a very distinctive, dreamy soprano that reminds me of a blend between Norah Jones and Corrine Bailey Rae, and her three selections are very affecting and effective, even the slightly goofy "Big Easy Chair," which offsets the rather dark "Somewhere Up the Street." Her performance on the title track will linger, I predict.
Patton's deeply soulful baritone is always a welcome addition, and, on "Too Far Down," a duet with Sprague, he even explores a distinctly Americana vibe; "Mudra" and "Calling Me Home" originally appeared on an earlier Sprague disc, but these are new mixes.
Jade completely dominates her four contributions. Her smoky alto hits every note dead center and her emotional interpretation of Phillips' lyrics make the listener believe every single word. I can't get "Full Moon's Daughter" and "Down to the Bone" out of my head.
I don't know if it's "folk music," but if you love singers and the art of song, Sparks and Seeds is essential listening.
A CD release is planned for Sunday, August 5, at Sunset Temple. Check the calendar for details.