PAMELA REINAGEL: Still Waters Run Deep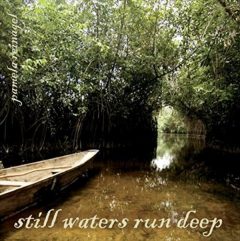 When Pamela Reinagel released her debut EP In the Shadow of the Mountain in late 2013, it stood out: traditional American ballads sung solo, a cappella. Old music sung the old way, about death and tragedy. It was solemn and reverent-and her striking vocals paid a sort of homage. She followed up with Inheritance, more of the same from Scotland, Ireland, and Britain and even older, again with the stately presentation. Well, Reinagel is back and there are some small new wrinkles on her full-length Still Waters Run Deep. On the 14 songs, she doesn't dispense with stark solo, a capella, or established folk ballads — there are plenty, done well. The new disc also introduces four tunes that include guitar accompaniment (two each by Don Strandberg and Barry Dubis), one that includes harmony vocal (Jenn Hajj), and minor touches like a few quiet organ keys that give the tunes a soft drone effect. These all work great, and the material wisely mixes nine Roud Index, traditional folk tunes — many now mostly recognized as the bones for blues, folk-rock, and even blues-rock standards — along with five recent tunes with the same flavor.
"Another Man Done Gone" is a familiar chain gang song, and Reinagel digs right into the huge range challenge with her big voice and her trademark lingering, vibrato-less intonation on each word. Tasmania's settlers are given an anguished saga in "Far and Fatal Shore," by Martyn Wyndham-Read. Reinagel has a way of singing these tragedies, like the old-time cantor in some public square or churchyard; she paints all of the scenes, laying it all out without judgment or much emoting. A great example is "Conversation with Death," recalling a meetup with the Reaper, with each verse about trying to get another year out of him. Strandberg's guitar helps transform "Saint James Infirmary," as Reinagel's take-charge pipes don't have a problem mixing with an accompanist, and she sounds like she is having fun.
One of the disc's clear highlights is another accompanied song, a Reinagel original "She Let Her Sword Fall." It as an old-sounding folk melody, a story about a woman who "had bravely fought the war" and now gives up her sword and armor — but it is a bittersweet moment. Sting and Allison Krauss wrote "You Will Be My Ain True Love," and here it is a beautiful, haunting masterpiece. A single organ note gives just a hint of bagpipe drone, and Reinagel and Hajj single harmonies that wrap around the hum and each other for a hypnotic effect that seizes the listener. Dubis is back on guitar to give Reinagel some more depth on "Shallow Was the Grave," a showpiece from her first EP.
The drone effect is used again with Reinagel singing alone on "Rue," adding a darker shadow to the song. The disc closes with "The True Lover's Farewell," sure to be familiar to folk fans, and with Strandberg giving support it is a pleasing close to the show.