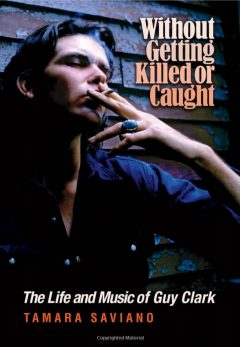 When Guy Clark passed away in May, the West Texas troubadour left behind a legacy of songs and stories that nurture the soul with a sense of timeless integrity. For Tamara Saviano, the publication of her biography, Without Getting Killed or Caught: The Life and Music of Guy Clark, is a bittersweet closure and a work of love and compassion for her friend and mentor. For those who read this book, fans and those who are new to this great American songwriter, the book is an open door, a transparent peak behind the curtain to the breath of life that became some of the best songs and Americana recordings of the last few decades.
During our brief conversation, as she leaves for her book tour, Saviano described how deeply this work and friendship touched her and reminded us how profoundly the songs and life of Guy Clark influenced so many.
San Diego Troubadour: What is Guy's contribution today?
Tamara Saviano: I think his contribution is in two parts that can't be separated. First, his body of work. One hundred years from now, we'll appreciate his songs more than we do now. But, second, there would be no Rodney Crowell, Lyle Lovett, or Steve Earle without Guy. His generosity lifted these other songwriters to places they never would have gone without him. Lyle Lovett always says, "I wouldn't' have a career without Guy Clark."
SDT: One of the main themes of the book is how Guy moves from a studio-band-driven sound on record to a full vocal-guitar dominated sound.
TS: Yes. When Guy got to Nashville he had this assumption that record labels knew how to do this. So, he put himself in the hands of RCA and Warner Brothers. It started from the very first album. He didn't know what else to do. After he left Warner Brothers he practiced for six years, playing guitar and singing in front of a mirror. When he was ready, he built a demo studio with Miles Wilkinson and began recording Old Friends, his breakthrough acoustic album.
SDT: That's when he got my attention.
TS: That's when he got a lot of people's attention.
SDT: Didn't that album help to form the style and sound of recording that Americana artists do today?
TS: Yes. That's true.
SDT: What was Townes Van Zandt's influence on Guy?
TS: It wasn't until Guy met Townes that he started wanting to write his own songs. Guy would try to write to Townes level, but he always said he didn't write the way Townes wrote. But, first hearing Townes' songs made Guy believe that he could do it, too. They had very different processes. Townes would say he'd put up his antenna and the song would come. But, Guy would sit at a table with graph paper and his black wing pencil and write lines, cross out lines. He was really meticulous as a writer–always trying to figure out how to make the song better. He would throw out the best line if it didn't suit the rest of the song. Townes was like an impressionistic painter. Anyone who listened to him might hear his songs in different ways. But, Guy's songs and stories were simple, clear, and up close. They were straightforward, for everybody.
SDT: Guy liked to collaborate.
TS: He did. As he got older it became more difficult for him to dial up the ideas. But, if somebody came over with a song, he could dig into it and do it. Guy was very sociable. He loved sitting in his workshop with friends, getting high and playing guitar and talking about songs
SDT: Was there any resistance to writing the book?
TS: No, and that surprises me more than anyone. When I approached him about writing the book it was right after he was diagnosed with lymphoma. He was feeling mortal and wanted to leave his story behind. As I was writing, he kept getting sicker. For 18 months before he died, he told me he wouldn't be here when the book came out. Intellectually, I believed him, but in my heart I didn't. He would be so sick, I would try to leave and he wouldn't let me go. A year ago, I finished the book. I told him while he was sitting in his sun room playing the mandola. I said, "Guy, I wrote the last sentence today." He took a drag off his joint and said, "I haven't seen you look this relaxed in years." Part of me believes he was holding on these last five years for me to finish this book.
SDT: He became an open book for you?
TS: Yes. We were friends when we started this, but I had no idea we would become such intimate friends. He confided so much in me. I became his late-in-life confidant. It was such an honor.
SDT: What's your favorite Guy Clark song?
TS: That's a tough question. I loved so many. Guy would always say his favorite was "She Ain't going Nowhere" and I'd have to agree with him. It's the first Guy Clark song I fell in love with. It became the theme for my teenage angst. But, there are so many others: "Baton Rouge," "Stuff That Works," "Dublin Blues."  There are so many.