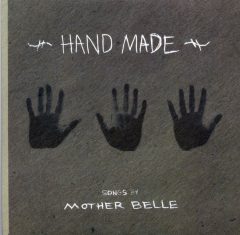 If Mother Belle was a new wine release and this was a wine column, it might read "imbued with notes of Chrissie Hynde, essences of Laurel Canyon, undertones of early jazz, and jammy rock finesse." But Mother Belle is a hometown pop rock band with tons of personality, and it's really all about the songs and how they move you. There are plenty of winners on their new CD Hand Made.
Mother Belle's music is like pop time travel. It mines the deep well of rock tradition, and that's a good thing. You keep thinking "who does this remind me of?" The answer is many great bands and artists. This album is like an amalgam, an alloy. And the material is honest and original, and addictive.
"The Good Stuff" opens the show with chunky guitar riffs and April Pendergraft's silky singing. Soon you're sailing on the Mother Belle ship and the sun is shining.
This band knows how to juxtapose rock DNA with glossy arrangements — to the advantage of each. The songwriting core also includes Junior Plenty and Michael P. Rovatsos. Good things come in threes. April handles lead vocals and lyrics; Junior contributes banjo, mandolin, slide, fretless, electric guitar, and vocals; and Michael covers acoustic and electric guitars and vocals.
Many cuts stand out. Some of the deeper songs of love and life — "Handmade," The Name I Ever Carry," "Clean House" — clearly come from April's heart. The rocked up material is really tone-tasty, and the guitar work throughout the album succeeds beautifully at both rhythm and lead. "Black Thumb" owes a lot to early Buffalo Springfield with its marriage of guitar and banjo. "Pretty Teeth (for a Sheep)," "Curbside," and "Bernalillo County" feature a lot of smooth overdrive and guitar interplay.
There are a couple of spots on the album that are curiosities. One is the pleasantly quirky track "Patchwork," which finishes with an operatic flourish that sounds like it came from the TV in the other room. Another is in the opener to "Younger's Bend," which features an outlaw-hanging sound bite that's a stretch. Just sayin'.
Mother Belle has the knack for wrapping you in pop perfection and delivering songs you want to hear again. They've done the homework, decided who they want to be, and written great material to prove it. Their nomination for "Best Local Album" by The San Diego Music Awards certainly had the support of locals in early October. They are surely contenders.