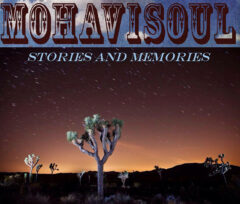 Stories and Memories is the fifth CD release for MohaviSoul, formed in 2012 by two singer/songwriters, Randy Hanson and Mark Miller. The quintet on the album consists of Hanson (mandolin), Miller (acoustic guitar), Ben Bostwick (bass), Dan Sankey (fiddle), and Jason Weiss (banjo). The 13 original tracks hold true to the album's title with stories and memories of the road, family history, love, redemption, and self discovery, recorded and mixed splendidly by Ryan Finch at Studio West in San Diego.
The rich vocal harmonies and traditional instrumentation certainly display their strong Bluegrass roots, but the songwriting goes way beyond the typical three-chord "old timey" tunes with a wealth of colorful chord motions on the verses and choruses that establishes them more as Americana, Newgrass, or Grassicana, as they like to market themselves as.
Sankey's fiddle and Weiss' banjo are on fire throughout, leaving an indelible thumbprint on the project, with burning solos and fills intertwined with the vocals, highlighted by the soul and range of Miller's lead vocal moments on the upbeat tracks "Fourteen Days," "Won't Bring You Down," and "Righteous Path." "Righteous path, it ain't easy…but you find yourself in much better shape than before." In the songwriting tradition of Hank Williams, Miller's "Lonesome Evening Blues" could be a successful crossover tune on the Country charts. "What happened to the way your hand once held mine…all the nights we spent seem so far from here."
Hanson makes his mark on the storytelling side of things, especially on the up-tempo "Breakin' Down," an ode to Bill Monroe's well-traveled tour bus that finally gives out, and "Two Roads," a well-crafted tune paralleling love and life on the road. "You can't go where I'm bound…a bridge to nowhere that can't be found." In addition, Hanson's entertaining novelty tunes, "Sinners and Saints" and "Squirrels in My Car," blend nicely into the overall lyrical diversity. "Rocky the squirrel was his name…while flying high was his fame."
The album closes with Hanson's "This Old House," a nostalgic look at the connection of lives and memories of those who lived in houses before a home restoration, opening with a mellifluous duet of Hanson's mandolin and Sankey's fiddle. "If these walls could talk, what would they say…what could we hear?"
Overall, Stories and Memories is a winner from start to finish highlighted by the wide range of songwriting narratives, the mellifluous harmonies, and the high level of musicianship. It's an album anyone can enjoy, no matter what style of music fits your fancy.