MIKE BOWMAN: Red & Yellow: Stuck in Between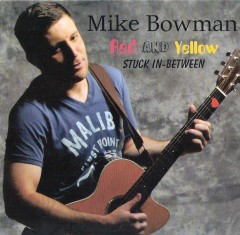 He's in the process of putting together a full-length CD, after his debut EP Columbus Day, and Mike Bowman is keeping busy. Red and Yellow: Stuck in Between, the EP he is distributing at shows, is sort of a progress report. It continues the singer/songwriter chops he flashed on Columbus, with mostly the same pared-down arrangements in the Ben Harper/Jason Mraz/Amos Lee vein. This bit of pigeon-holing leaves out Bowman's two major strengths: a great voice, and he can play a mean guitar.
The set here is eight originals, with a home-recorded feel. "Let It Burn" takes off with a rousing message about taking to the streets to fix this screwed-up world, nailed home double tracked vocal choruses. Bowman calms down for "Back Again," but burns on the standout track "Blazin Train." This one has drums and electric guitar pushing a groove; it isn't heavy, but when veteran Bowman sings, "Did time with Uncle Sam/ Two trips to the desert land/ Went to work for the man/ Said wait a minute, what the hell's plan B?" you know he means business. The best track on the disk is "I Won't Turn Off the Light," and there's a good version here.
This reviewer thought "Get Outta My Head" was a cover of a million seller by some rich star like Harper or Mraz, but nope, it just sounds like one; a great tune with just a touch of reggae bounce.
This EP has a sort of demo feel in spots, but the tunes are solid on their own, and create a anticipation for Mike Bowman's further efforts.