LISA HIGHTOWER & MARK AUGUSTIN: Conversations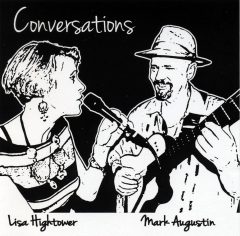 One of the most talented singers here in San Diego is Lisa Hightower. Versatile, she has sung in quiet settings with Peter Sprague and performed with Sonic Epidemic, a horn-based ensemble that reprises the gems from Earth Wind and Fire, Steely Dan, Tower of Power, and other favorites from the seventies. Mark Augustin is another talented local performer. As a guitarist, his influences include Joe Pass, Wes Montgomery, and Pat Metheny. If you're lucky, you've caught him performing at one of his club dates at the Cosmopolitan Hotel or other San Diego nightspots.
Now these two talented musicians have teamed up and released Conversations, a collection of 11 standards and favorites. When I review a CD, I usually play it several times to get a good idea of what the recording is all about. I found myself playing this CD again and again, just because I liked it so much.
The entire CD is Hightower and Augustin and only Hightower and Augustin. The two recorded these standards in one take with no overdubs. As a result, what really comes to the fore is the strong interplay, the in-the-moment give and take between the guitarist and singer. Hightower gives Augustin plenty of room. Although she is quite capable of singing and holding those long notes, as she does Sinatra-style on "The Song Is You," she often clips her phrasing, allowing Augustin plenty of space to fill and comp. Conversely, Augustin doesn't overplay in the slightest, keeping the spotlight on the vocals of these standards.
Hightower and Augustin chose some of the best favorites from Johnny Mercer, Hoagy Carmichael, Duke Ellington, and other authors of the American Songbook, proving to all the aging hippies and Gen Xers that our parents were correct. Their music is better than ours. The duo nonetheless keeps things up to date and tosses in a couple tunes for the Now Generation. The disk finishes up with two from Bert Bacharach and Hal David. "This Guy's in Love With You" and "Walk on By." Hearing these again I'm convinced that the Bacharach/David songwriting team should be considered among the cannon of the American Songbook. (Perhaps, along with Lennon/ McCartney, one of the last songwriting teams of the Great American Songbook?)
I appreciated the range of interpretation that Augustin and Hightower achieved with this recording. "Stardust" and "Skylark" are both beautiful and touching. And the two musicians take a more playful approach to songs like "Frim Fram Sauce" and "Surrey With the Fringe on Top," bringing out the humor of these tunes.
The entire recording is one person singing and one person playing guitar. So if you really need to hear a bunch of banjos, accordions, trumpets, and bouzoukis, to enjoy music, well, Conversations may not be your cup of tea. (They don't even have a bass player!) But if you're hip to a great intimate collaboration between two exceptional musicians, then this CD from Hightower and Augustin certainly deserves your attention.