MICHAEL CROSSMAN: Desert Diamonds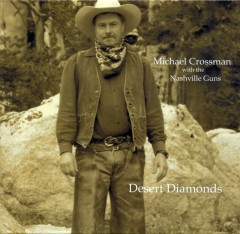 With his fourth and newest CD, Desert Diamonds, songster Michael Crossman continues his presentations of his country and country/pop crossover songs. With greater production values than his previous releases, Desert Diamonds should please his many fans.
Don't let the faux daguerreotype photograph of Crossman in cowboy outerwear on the CD cover (complete with faithful horse on the back cover) fool you. Most of Crossman's tunes are country, but there is a little bit of rock and a little tin pan alley thrown in for good measure. Not an outstanding singer, Crossman can nonetheless carry a tune, as long as the song is not too heavy. Please don't think that I'm putting him down. There is a long tradition of performers with limited vocal ability making their mark as singers. Perhaps the person who turned non-singing into an art form was Rex Harrison, who, as Henry Higgins, shouted more than sang in My Fair Lady.
Among the many other successful non-singers are Lou Reed, Mark Knopfler, and Fred Schneider from the B-52s. These men rely on their cool, their moxie, phrasing, and positions in hellaciously great bands to carry their "singing" along. Leonard Cohen can't sing his way out of a paper bag, but folks flock to his concerts because of his poetry. And don't get me started about Bob Dylan. This idea of handing a microphone to a non-singer has its obvious failures. You're welcome to put "Leonard Nimoy sings" into the search box of YouTube for several examples of this. Don't worry. Crossman is in the Harrison, Knopfler, et al. camp. He succeeds in conveying the tunes despite his limitations. His voice has a sweet, soft, Kermit the Frog "It's Not Easy Being Green" quality, something quite effective particularly on the quiet ballads and humorous tunes.
Of course there are country songs, such as the title tune, "Desert Diamonds." "Small Town Cafe" is bluesy and kind of fun. The ballads, such as "Shining Star" and "My Turn," are heartfelt and sincere. Perhaps my favorite tunes were the three lighthearted and amusing "Rosie," "Blue Jay," and "Bugged."
Expertly recorded at Studio X in Nashville, Tennessee, Desert Diamonds has the production values expected of big-name recording stars. The whole record sounds great. The truly amazing performer on Desert Diamonds is Jim Hoke. Somehow flying under my radar for decades, he has recorded and performed with Bob Seeger, Joan Baez, Todd Rundgren, and a lot of other headliner acts. On this CD he plays clarinet, saxophone, pedal steel guitar, and harmonica and he plays them all expertly. The pedal steel is tight; the clarinet is swinging; everything is great!
I'm starting to take points off for CDs that aren't very long. Desert Diamonds clocks in at under 30 minutes. I believe that there should be more than half of an hour's music when you plop a compact disk into your CD player.