LEXINGTON FIELD: No Man's War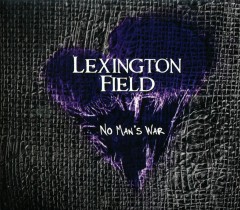 San Diego's Lexington Field labels themselves "American fiddle rockers." This is a wide open category, and though the band shows evidence of influences (Fairport Convention, bands with Celtic punk sounds like the Pogues and Dropkick Murphys), they are a true hybrid, able to meld power-chord guitar rock, Celtic folk scales, political anger, and post-punk aggressiveness. Their latest disc, No Man's War is one of those rare discs on which the sound of the next track, until it spins, is often a complete surprise.
The band shares the writing on the 14-song album: Beau Gray (lead vocals, guitars), Bryan Hane (guitars), Casey Jones (bass), Cami Smith (violin), and Vincent West (drums, percussion, backing vocals) are the core group, augmented on the CD by such local talent as Steve Poltz, Veronica May, and Dennis Caplinger. Another masterful job of production and recording by Jeff Berkley, it is often a wall of sound yet retains critical dynamics; an added bonus is a 20-page insert that includes all of lyrics, player lineups, and 15 excellent, imaginative pen-and-ink drawings by graphic artist Jose Pimienta.
The songs have consistent themes. "American Crow" is a headlong power-rock rebellion ode — the first of many; Gray's voice is growling beacon of focused punk energy, calling the listener to join an ongoing crusade, "We hold up our brothers/ And we take down our foes." "Daniel Plainview Has a Drinking Problem" is a thunderous battle cry, "You said there would be blood/ Spilt from all of us," as Smith's surging riffs duel with guest guitarist Anthony Belluto's spitfire wah-wah; this track sounds like three bands, turned up to 11, playing together, yet it works great. More of the same on "Crazy Eyes," this time with Gray railing about a personal betrayal. A slower, quieter start belies the power of the standout track "Fireworks" — as in "gunshots ring out like fireworks" and "I will fight hand in hand with you/Together we will raise up our flag"; Gray takes the listener into the breach once again. "The Chemical Worker's Song" is another strong, angry protest based on "The I.C.I. Song" and about working in fumes and knee-high in cyanide: "For every bob made on the job/ You pay with flesh and blood."
The band can turn down the volume and angst, as "Dear Old Friend" shows with Caplinger's banjo-picking blending softly with Smith's fiddle while Poltz shares the vocal. There aren't many songs here about personal relationships, but the mid-tempo "Here's to You" is, and no surprise, it isn't long before Gray is taking the opportunity to read his beloved the riot act, farewell, and a one finger salute. "Pioneer" is change of pace as the soft verses are an introspective soul search by Gray, and "Lady Arlington" is a Celtish-flavored fiddle reel that is the best of several instrumentals on the album. The closing tune is another surprise, a wistful, mellow folk tune, "Tumble" sung in harmony by Gray and May.
No Man's War shows that Lexington Field has a big sound, is full of surprises, and is ready for battle.