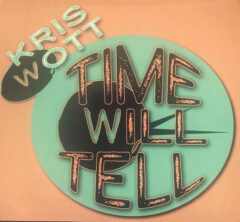 Kris Wott, a singer, guitar slinger, and harmonica player gives us his take on bluesy southern country rock with Time Will Tell, a nine-selection CD that features the contributions of ten other musicians, including brother Andrew on drums and brother Frank on upright bass.
Wott taps into the roots of southern rock, the folk and Americana traditions of having a bit of quirkiness, a bit of nontraditional tradition, even on the very contemporary and slightly jazz influenced number "Bullshit." It's one of the things that made the repeat listenings of Time Will Tell enjoyable.
Wott has a breezy, soulful vocal delivery, which is only outdone by the soulfulness of his harmonica lines. And the harmonica may very well be the thing I enjoyed most about this recording. The rest of the crew of musicians are an able bunch. I'm not sure who it is, Steve Tahnahkera or brother Andrew Wott, who plays drums on the opening number "Enough is Enough," but whoever it is, that guy really knows how to kick tubs! He has a great drive and a great groove that really propels the song.
In these days of digital downloads, in which music enthusiasts pick a song from here and another song from there, this is a less important matter than in the days when folks would slip a disk into the machine or an LP onto the turntable, but a little more care in mixing up the songs would have helped the overall listening pleasure of the disk. "Ohio" follows "She Won't Be Controlled," which uses the same underlying riff and is in the same key of A minor. It sounds like the same song is just continuing. Don't get me wrong, both songs are fine and are performed well. There is no fault to the musicianship, just an oversight in putting the disk together.
If you're a sucker for the sounds of Wet Willie or Elvin Bishop, but need an update to your southern country rock software, Time Will Tell just might be the version 2.0 that you're looking for. I seen no credits for engineering or mastering, but whoever it was in the studio punching buttons and turning knobs, he or she did a fine job. The disk has 36 minutes and a few seconds of music. I would have appreciated more, but I will not give any demerits for the disk's length or lack of length. This is certainly a disk to please Wott's many fans.