JOSH DAMIGO: I Will Be There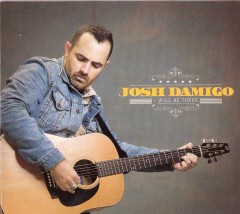 I Will Be There is the new album from Josh Damigo, whose indie pop was last heard on 2012's Hope, an overflowing 17-track disc loaded with breakup songs, sort of Damigo's catharsis after an unsuccessful relationship and a short-term move to L.A. Hope's themes may have been along the lines of "Loving You Is Killing Me," but musically it was a lively and eclectic mix of styles, from country rock to blues to soft folk melody.
The new album is a ten-song affair, all Damigo originals (with help on three), nicely played and recorded by Damigo on vocals and acoustic guitar, with a crack band that includes Mike Butler (electric guitar), Dave Berzansky (pedal steel), Dean Cote (electric guitar), Dennis Caplinger (banjo, dobro, mandolin), and Bobby Cressey (keyboards). With Butler's slick production and Damigo's confident voice, the songs pop out of the speakers, surging with energy. And while the subject matter is still mostly about breakups, there are plenty of entertaining moments.
"Walking With Your Shoes Untied" rocks, a hand-clapping, upbeat song that gets the disc off to a strong start, it is catchy and refreshing with a lesson about making the most of life's challenges: "And you may fall flat on your face/ But once you brush off all the dirt,/ You'll see, it's gonna be a beautiful day." The disc highlight, "Give Me a Call," is next, another brisk rocker with a message of hope anchored in a drop-dead memorable chorus hook; it's the radio-ready single of the set. Damigo hits another home run with "Goodbye Good Times" as he manages a humorous story about a character who is his own worst enemy, stealing and brawling his way through life, in and out of jail. Again, the song's hook burns its riff into the listener's brain after a verse or two.
Starting with the track "Tennessee" there is a shift for a few tracks as Damigo's focus seems to be on his broken, post-breakup heart. This tune is a slow ballad with nice pedal steel by Berzansky that laments either a woman or Nashville (maybe both), who has left him high and dry, "Lines and promises/ Empty kisses/ all your pretty words, they all just sound the same." This tune takes some of the air out of the head of steam built by the first few tracks, especially when followed by another deliberately paced breakup song ("It's Hard to Make a Heart Forget"). Damigo manages to recoup some of the energy, while staying in breakup mode, with the funny, clever "The Day That You Left Me," which revels in the joy he is having now that his girlfriend left; he's having a blast doing all the stuff she hated. After the best of his slower breakup ballads, "Not Yours," comes the disc closer "Cold Killers" and a surprising, effective style shift as a foreboding arrangement frames Damigo's tale about a murderer on the run from the law — a musical gamble that works.
Josh Damigo's ability to distill catchy pop songs makes I Will Be There a can't-miss for fans of indie rock.