JONATHAN KARRANT: On and On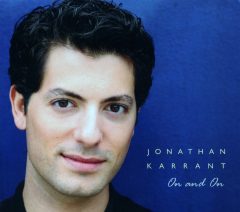 Switch on a TV, and the programming is nearly wall-to wall-karaoke shows, enormously popular contests full of marginally talented, aspiring young Mariah and hat-act wannabes, warbling and howling their way through '70s ballads to the percussive beat of cash registers. Maybe there's no arguing with success, but this phenomenon has resulted in a pop culture in which most good musicians struggle to tread water, while mountains of cash flow to tours and contracts for pretenders turned into celebrities for butchering covers of Journey, Stevie Wonder, or Foreigner to adoring millions. It may be killing music, but the Kinks were right: Everybody's in show biz. And since everyone is a singer, every catchy pop, rock, or R&B song is fodder for yet another mediocre cover.
Okay, end of sermon. Happily, there are discs that come along that offer a refreshing break from this dreary landscape, aside from rarely commercial subgenres of blues and roots music. Jonathan Karrant is a throwback to the era of the jazz singer, fronting a small combo and reworking familiar pop songs with personal interpretations. Originally from the Midwest, he gets steady gigs performing the kind of laid-back music that worked so well for the previous generations, which included Tony Bennett and Mel Torme. His new disc is On and On, with 10 well-chosen tunes that blend his smooth phrasing with pianist Josh Nelson, guitarist Mark Shapiro, and a rhythm section of Rob Thorsen (bass) and Duncan Moore (drums).
The title tune is Steven Bishop's hook-heavy 1977 pop favorite, and it gets a lively rendition that moves into and out of two grooves, yet retains the song's breezy feel. "Don't Let Me Be Lonely Tonight" seems written for a jazz treatment, as James Taylor's original leaves lots of space for improvisation. A mild surprise comes with John Lennon's "In My Life." It's a great song, and covered a lot for that reason; fortunately Karrant doesn't rebuild it, but instead makes it a great piano ballad with a perfect keyboard coda as he scat sings the melody from Paul McCartney's "Junk." Karrant really hits his stride with "Doodlin'," a Horace Silver bop tune from the '50s. It has a great instrumental hook, and Karrant's vocal brings it to life with a sharp, catchy reading that is a clear highlight. The treatment elevates a somewhat obscure jazz song to finger-popping familiarity.
Not everything works perfectly on the disc; "May I Come In?" seems to push Karrant's pipes to the limit while getting a touch sappy, despite slick piano work by Nelson. Better is Moze Allison's "Days Like This," with a funk groove, and Karrant isn't too smooth to get down with the blues without a problem. The disc wraps quietly with the oft-covered "Please Send Me Someone to Love," with just Karrant and Shapiro, "Show all the world how to get along/ Peace will enter when hate is gone." Nice way to close the show.
Played and sung without pretense or flashy nonsense added, Jonathan Karrant's On and On is good, solid jazz and a great listen.