GREG FRIEDMAN: Can't Talk Now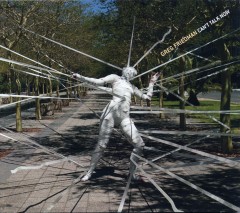 I don't know if it was sampled directly from the Beatles White Album but the jet airliner at the head of the new Greg Friedman LP Can't Talk Now serves ample notice that we are taking off on a sonic adventure. The title is ironic because every song on  Can't Talk Now serves as a dialog between the singer and his spouse, various friends, and assorted family members. There is even a devotional song of love to his favorite dish at breakfast (but you will have to decide for yourself what the underlying meaning of "Pancake, I Love You" is all about).
The album comes rocking out of the shoot with "Melancholy Melody," quickly hitting cruising altitude before sliding into the toe-tapping acoustic finger-picking of "Hear The Sound" (a lovely duet with Jane Lui). The wide range of sonics and stylistic approaches are rare these days, continuing with the straight ahead '70s rock of "Best I Can Do" before detouring into the Ska-like splendor of "Zombies And Cannibals," posing such queries as "Your head's in a tourniquet, when are you going to learn to get control of yourself?"
Can't Talk Now brims with intelligent choices and you can tell by the contemplative lyrics that Friedman is a real mensch, capable of offering reassurance, loyalty, and caring, sensible advice — the kind of person that you would be lucky to call a friend.  Can't Talk Now has a huge heart but never manages to lose its cajones along the way.
For old school audiophiles another thing to relish about  Can't Talk Now is that it is available on vinyl and the distinctive cover graphics by the late, great Storm Thorgerson (Hipgnosis: Pink Floyd, Led Zeppelin, Peter Gabriel, etc.) appears to be his last project before he passed away on April 18th from cancer. The cover is great but I'm left wondering if it's all that representative of the music inside.
It's been seven years since Friedman released his rock solid solo debut Souls Of Passing Feet. Can't Talk Now shows the mark of an artist reaching full maturity as a songwriter, vocalist and multi-instrumentalist on his sophomore offering. Friedman's time as the bassist in The Truckee Brothers served him well in rounding out his skills as a player, not to mention the importance of his continuing creative collaboration with fellow Brother Christopher Hoffee, who co-wrote all 12 tracks on  Can't Talk Now.
My fave track is the penultimate song "Jago" and by the time you reach the LP's conclusion with "Stories I've Told" it feels like one of those nifty summations that plays over the closing credits of a really satisfying film. There is a wonderful sense of balance throughout and for those of you who can't wait another six years for Friedman's next album you are advised to sign up on his website [www.gregfriedmanmusic.com] for his free A-Song-A-Month offering. If he keeps up the discipline by this time next year we'll have another whole album's worth of great material to enjoy.